7 Reasons You'll Fall for Winston-Salem
M
aybe it's the vivid colors and outdoor adventures. Maybe it's the cool evenings and crisp air. Maybe it's the fall festivals and football games. Whatever it is, autumn seems to be universally loved around Winston-Salem – and for good reason.
Gear up and travel back to Winston-Salem for the ultimate seasonal retreat full of adventure and relaxation. Take in the stunning showcase of fall colors in and around our hip, historic city, and cross the following "can't miss" experiences off of your Winston-Salem autumn bucket list.  #LookForwardFallBack
---
Embark on an Autumn Adventure at Salem Lake
Conveniently tucked away and just a 10-minute jaunt from downtown, Salem Lake is surrounded by lush woods – making the shaded, 7-mile loop trail ideal for a comfortable autumn hike or bike ride during leaf-peeping season. You can bring your own bike or rent one onsite, as rentals are available through FLOWBIKES Bikeshare, with a docking station at Salem Lake Trail for a trek around the 365-acre lake. You can also explore the 365-acre lake via kayak or Jon-boat – both are available to rent at the Salem Lake Marina Center – or fish to your heart's content from the lake's 300-foot pier.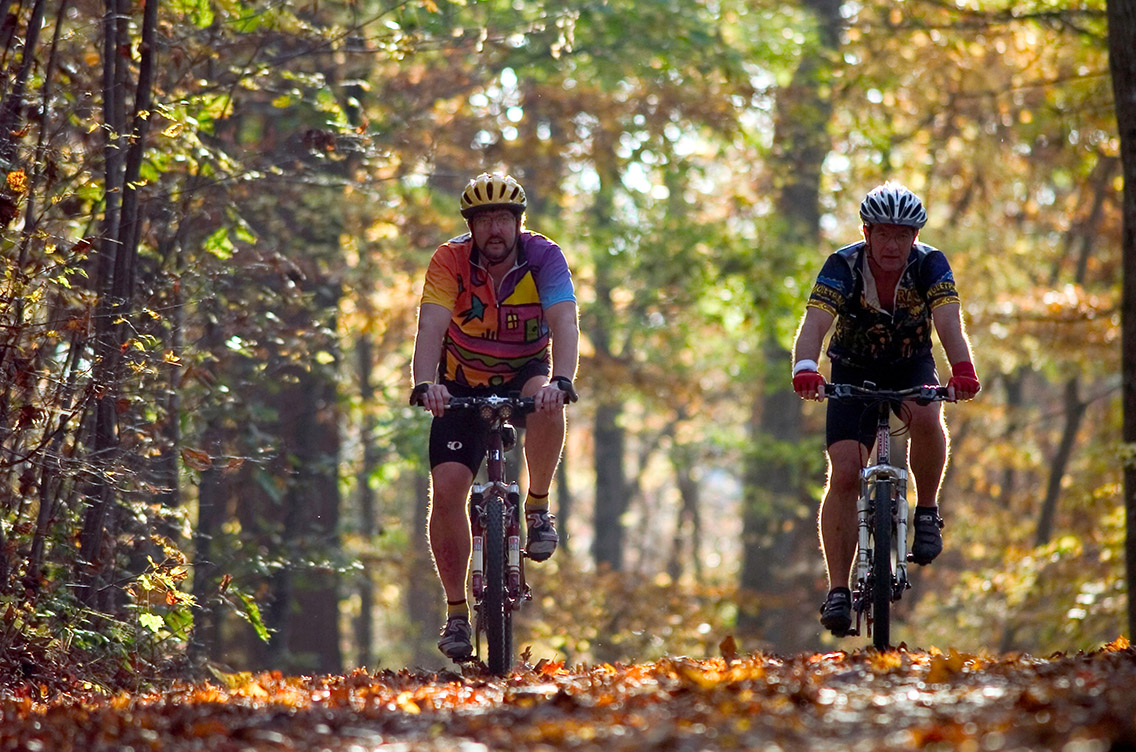 2.  Climb to New Heights at Nearby State Parks
Nestled in the North Carolina foothills, Winston-Salem is the perfect place to escape from the ordinary and view magnificent fall colors. Three of the state's most iconic parks – Pilot Mountain, Hanging Rock, and Stone Mountain state parks – are less than an hour's drive Whether admiring Pilot Mountain's iconic peak on foot, exploring Hanging Rock's plethora of waterfalls, or enjoying the postcard-worthy view atop Stone Mountain, an awe-inspiring Blue Ridge Mountain views await. *NOTE: Due to the popularity of the three aforementioned parks during peak foliage (mid-to-late October), park rangers encourage visitors to explore during the week to avoid heavy weekend traffic.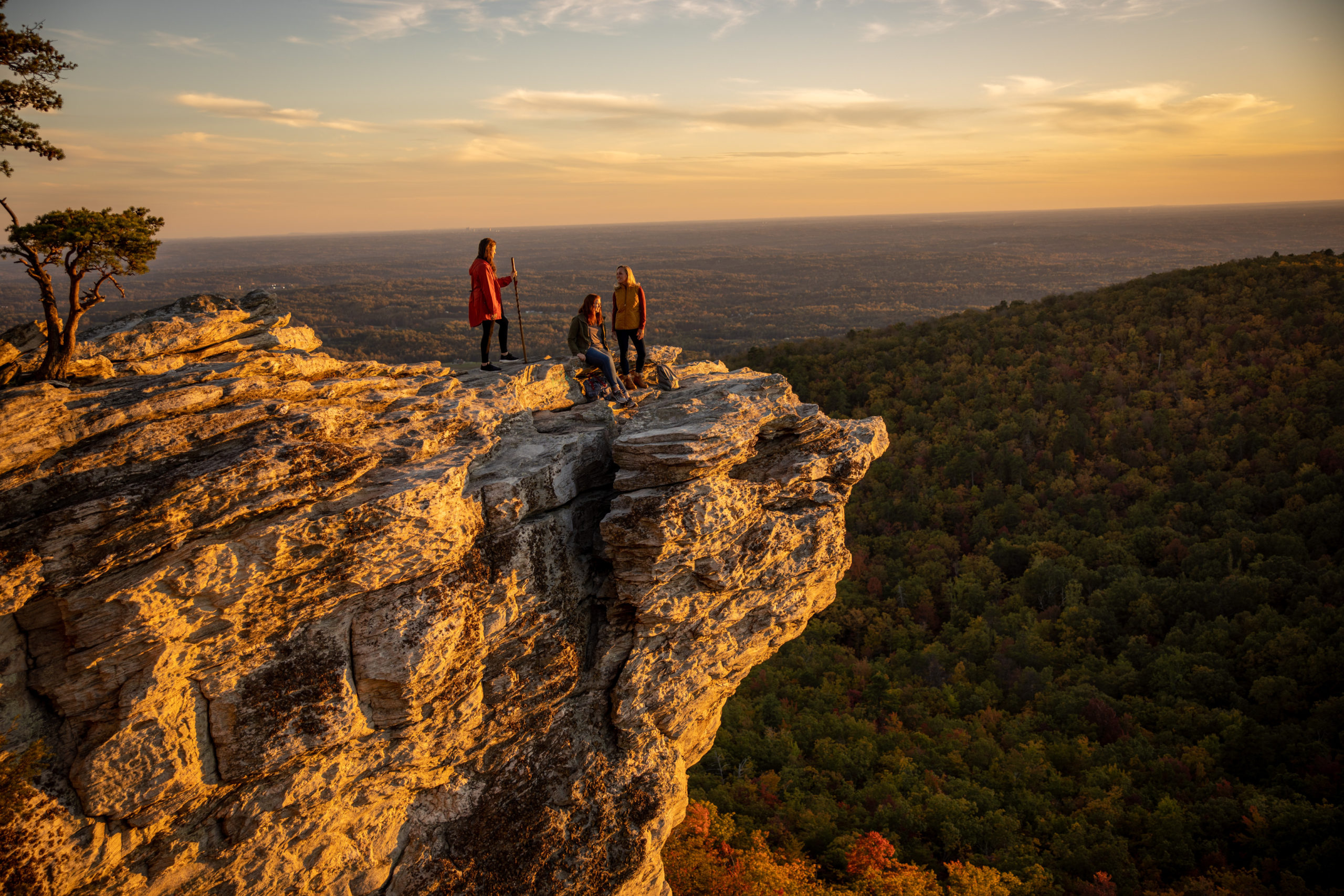 3.  Savor Our History One Bite at a Time
In Winston-Salem, baking is an art form. Treat your tastebuds to warm, sweet, and savory selections of fresh-baked autumn treats at our more than a dozen downtown bakeries. Pumpkin spice (and other fall-infused spices and flavors) will tempt your palate at some of downtown's must-taste stops for sweet tooths and savory fans alike. Indulge in an Instagram-worthy goodie (or two) from Louie & Honey Kitchen, Black Mountain Chocolate Bar, Camino Bakery, Bobby Boy Bakeshop, and The Humble Bee Shoppe. And don't forget to swing by Winkler Bakery, one of the oldest operating bakeries in the country, which proudly serves up gooey Moravian sugar cake and whisper-thin Moravian cookies in the heart of Old Salem.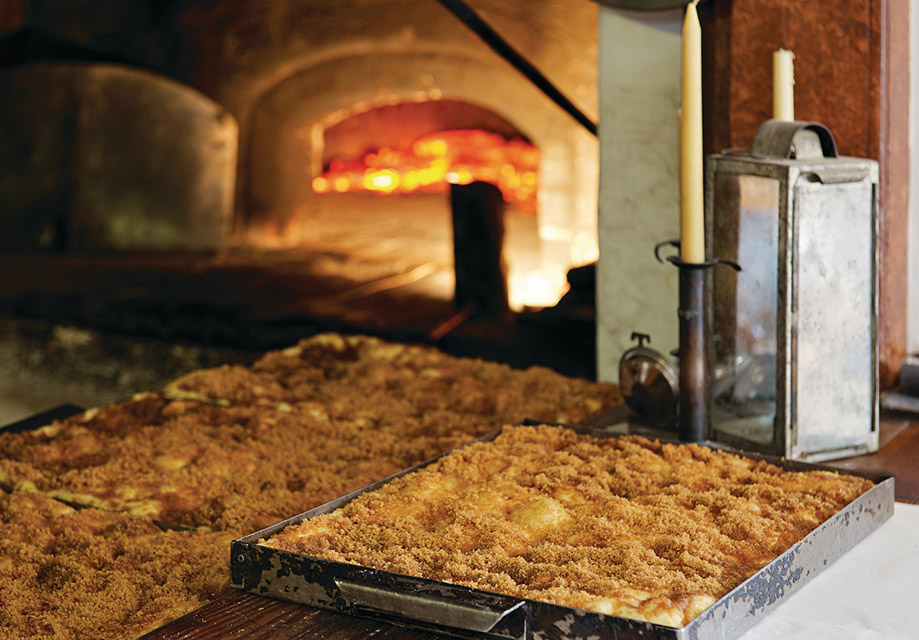 4.  Relish Magnificent Fall Foliage along the Reynolda Mile
This fall, discover Winston-Salem's charming "Reynolda Mile," home to historic homes, lush heirloom gardens, and a boutique shopping village. Just minutes from downtown, the maple-canopied Reynolda Mile is a welcomed step back in time. Admire works of art at Reynolda House Museum of American Art, the pristine country estate of R.J. and Katharine Reynolds, then tour the adjacent Reynolda Gardens and 1913 greenhouse. The historic charm continues in Reynolda Village, where you can shop seasonal finds at local boutiques and galleries and savor autumn-inspired dishes at a handful of eateries. Your self-guided fall foliage tour continues at the neighboring 55-acre Graylyn Estate, a stunning 1932 historic home-turned-hotel, and the expansive grounds of Southeastern Center for Contemporary Art (SECCA), a cutting-edge contemporary art museum set inside a historic manor house.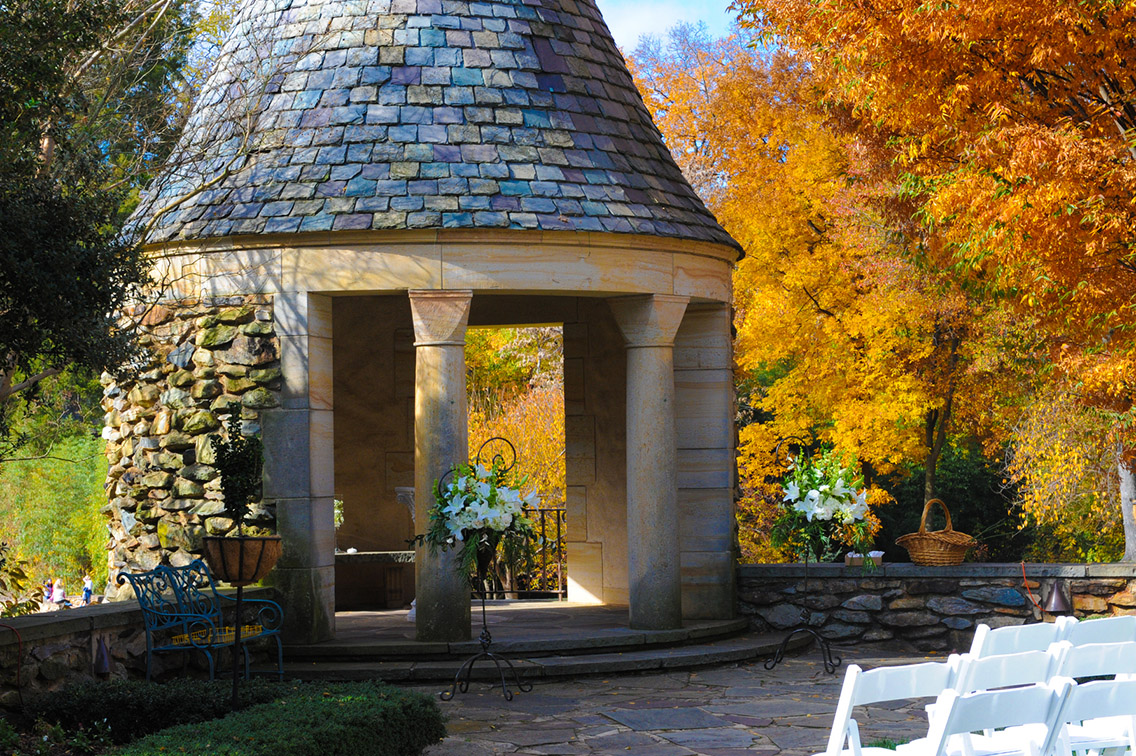 5.  Discover the Flavors of Fall on our "Craft Draft" Crawl
With 10 craft breweries filling the greater downtown area, Winston-Salem is an imbiber's paradise for sampling the season's best brews. Tap into our local craft beer scene with special autumn releases such as Foothills Brewing's Pumpkin Ale, a crisp, dry ale that uses pumpkin pie spices brewed with real pumpkin and a blend of malts. Other downtown-area stops include Incendiary Brewing Company, Fiddlin' Fish Brewing Company, Radar Brewing Company, Joymongers Barrel Hall, Small Batch Beer Co., Wise Man Brewing, and Hoots Beer Co., as well as its sibling establishment, Hoots Satellite. And just south of downtown is where you'll find the city's newest brewery, Lesser Known Beer Co., which opened this summer in the West Salem neighborhood.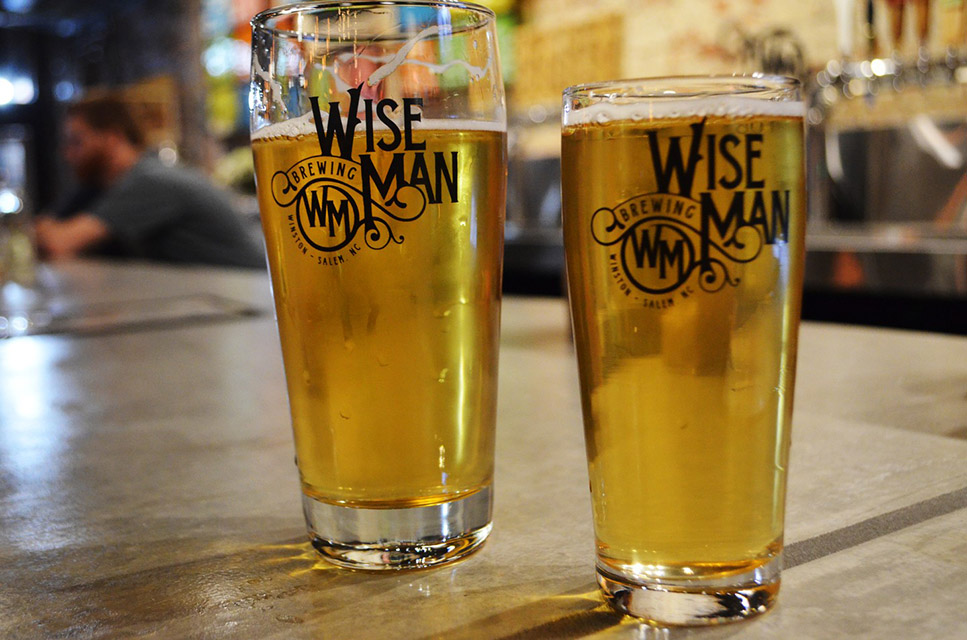 6.  Dig into Our History at Old Salem Museums & Gardens
Travel back in time this fall at Old Salem Museums & Gardens, a charming 1766 Moravian settlement that offers visitors a hands-on exploration of 18th and 19th-century traditions. Seek out the perfect fall foliage backdrop beside the towering maple trees found outside the 1771 Miksch House. Marvel at the fiery glow of the Gingko Tree in God's Acre, a Moravian cemetery where rolling hills are dotted with identical white marble headstones. Discover the Miksch heirloom gardens and the Single Brothers' Garden, an award-winning restoration garden and the largest interpreted garden in Old Salem, where seeds are saved from one harvest to replant for the next. *Please note that Old Salem's current operating hours (Wednesday through Saturday, 10 a.m. – 4 p.m.)
7.  Winston-Salem's Favorite Fall Color? Cabernet, of course!
As the gateway to the nearby Yadkin Valley wine region, Winston-Salem is nestled amidst more than 45 wineries within an hour's drive. Raise a glass (or two) at one (or more) of our award-winning vineyards, which also happen to be prime spots for fall leaf peeping. Three can't-miss vino-tastic fall excursions include stops at Divine Llama Vineyards, Raffaldini Vineyards & Winery, and JOLO Winery & Vineyards for their unique atmospheres and memorable tastings. At Divine Llama, a host of furry, four-legged beauties are ready to trek you through some of the finest fall colors, just 20 minutes outside Winston-Salem. "Take a hike" with Jay Raffaldini, owner of Raffaldini Vineyards, throughout his picturesque "Tuscany-esque" winery followed by a hearty luncheon paired with wine. Nestled in the undulating hills of the Piedmont, JOLO offers majestic views of Pilot Mountain State Park along with delectable dining at its on-site restaurant, End Posts.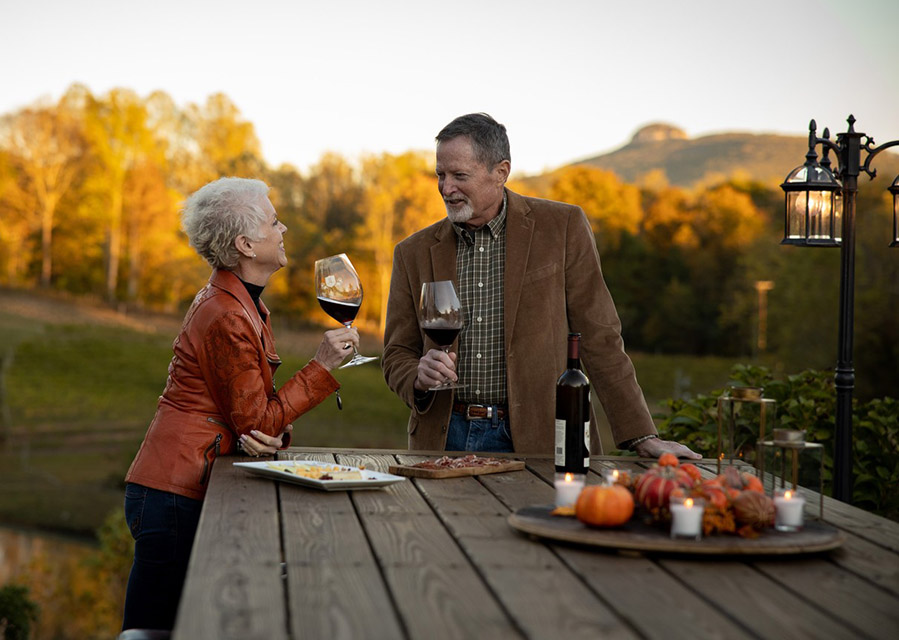 ---
Fall Hotel Getaway Packages
With so much to see and do this fall in Winston-Salem, you're going to want to stay awhile. With more than 50 hotels and a variety of seasonal hotel getaway packages, you're just a few clicks away from "falling in love" with Winston-Salem.
Click Here to Learn More and Book Now!
---
Turn Game Day into a Getaway
Winston-Salem is proudly home to six prestigious colleges and universities, and we invite you to huddle up for fall football. Click here for Wake Forest University and Winston-Salem State University game day schedules.
Click here for game day schedules for Wake Forest University and Winston-Salem State University.