Ginger All the Way! Holiday Spirits at the Ginger Fox
---
Sample the seasonal spirit at The Ginger Fox, a new, award-winning cocktail bar in downtown Winston-Salem.
---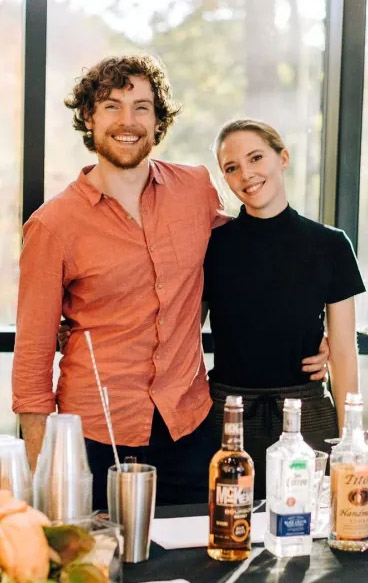 It turns out you can go home again. Just ask Madeline Fox, one-half of the husband-wife team behind The Ginger Fox, an award-winning cocktail bar at the corner of Marshall and Fourth streets in downtown Winston-Salem. Fox, a Winston-Salem native, opened the cozy cocktail joint last fall alongside husband David Bowen, a Georgia native. The bar shares the space with Village Juice, which operates during the daytime.   The couple's story of how it ended up running a cocktail bar is as interesting as the inventive drinks on the menu. The short version is that the couple met in Winston-Salem as drama students at UNC School of the Arts. Their careers took them a world away from Winston-Salem — to Macau, China, specifically — where they developed a love for "fancy cocktail bars" and an appreciation for otherworldly experiences. When the COVID-19 pandemic shut down much of the entertainment industry, they returned to the Twin City and launched a two-person cocktail catering operation. They dubbed the company The Ginger Fox, which takes its name from Fox's last name and Bowen's ginger red hair. The catering operation led to a partnership with the Village Juice, which led to the opening of the cocktail bar in October 2021.   While Fox runs the business side of things, Bowen handles most of the bartending. His sense of flair combined with his drink-making skills recently helped earn him the title of North Carolina Mixologist of the Year from N.C. Restaurant & Lodging Association. Along with judges from the NCRLA, the Ginger Fox has also endeared itself to local bargoers, evidenced by the steady crowds and unanimous five-star reviews online. A quick sampling some recent praise:  
"I have a new favorite bar. Try it and you will too. The drinks are among the best I've ever had. "  –Peter Langley
"The vibes here just feel right and the cocktails were creative and superb." -Jerry Beamer
"Friendly staff, great patio space, and overall wonderful experience. Perfect date spot!" -Amy Noakes
WANT TO GO? The Ginger Fox @ Village Juice is currently open Thursdays–Sundays at 400 W. Fourth St. in downtown Winston-Salem. For more information on hours, seasonal offerings, private events/catering, and more, go to GingerFoxBeverage.com or follow them @ginger.fox.beverage  

---
Holiday Sips & Spirits
This holiday season will be a big one for the bar, thanks in part to its location across from The Stevens Center. where performances of "The Nutcracker" should bring out big crowds. To celebrate the occasion, they've created a holiday menu with several Nutcracker-themed concoctions. They shared recipes for two of their most popular holiday cocktails, both of which were created by NC Mixologist of the Year, David Bowen, and Maddie Fox. Cheers!
---
Mother Ginger Fox
(an at-home version of a favorite from our seasonal Nutcracker Menu)  
1.5 oz blended scotch
1 oz Ginger-turmeric syrup ♥
 .5 oz Lemon Juice
3-5 oz hot water
Combine all ingredients in a mug, and enjoy!  
♥Ginger-turmeric syrup - for an at-home version of our syrup, mix equal parts Village Juice Sting juice (ginger, turmeric, lemon) and white sugar in a blender or whisk by hand until the sugar is fully dissolved. Store in the fridge for up to 2 weeks.
---
Holiday Spiced French 75
  (a festive twist on the classic French 75, perfect for holiday parties)  
1.5 oz Gin (we like local favorite, Sutlers)
.75 oz spiced cranberry syrup ♥
.5 oz Lemon Juice
2-4 oz sparkling wine
  Shake the spiced cranberry syrup, gin, and lemon juice briefly with ice; strain into a stemmed cocktail glass. Slowly pour in the wine and mix gently with a spoon.  
♥Spiced cranberry syrup - Using a mortar + pestle/food processor/spice grinder, coarsely crush 1/2 teaspoon allspice berries, 1/2 teaspoon cloves, and one cinnamon stick - set aside for later.
♦ Combine 200 g (1 cup) unsweetened cranberry juice and 200 g/ml (1 cup) white sugar in a small pot. Stir over medium heat until the sugar fully dissolves. Add the crushed spices and stir briefly.
♦ Bring the syrup almost to a boil, then turn off the heat. Stir again, then let steep until the syrup has cooled.
♦ Pour the syrup through a cheesecloth-lined strainer and store it in the fridge for up to 2 weeks.