Three Spring Craft Beer Releases to Sip On in Winston-Salem
Spring is a great time to plan your own Craft Draft Crawl through nine hoppin' breweries in downtown Winston-Salem. Read on to learn about three of the seasonal releases from a few of our favorite local breweries.
Foothills Brewing: Pilot Mountain Pale Ale
This American Pale Ale takes its name from the iconic North Carolina landmark, Pilot Mountain (located just 30 minutes from Winston-Salem). The annual Spring release, brewed with British pale and caramel malts, strikes a perfect balance between malts and hops. With a powerful aroma and flavor, this pale ale pairs perfectly with classic eats like burgers, pizza, and wings.
Foothills Brewing has been serving up a rotating lineup of seasonal craft brews and delicious chef-prepared dishes for more than a decade in downtown Winston-Salem. Their 28-tap tasting room, located just 15 minutes from downtown, offers a close-up look at the operation in addition to food trucks, live music, and games. Try the new Pilot Mountain Pale Ale at the downtown location this spring, then hop over to the next brewery.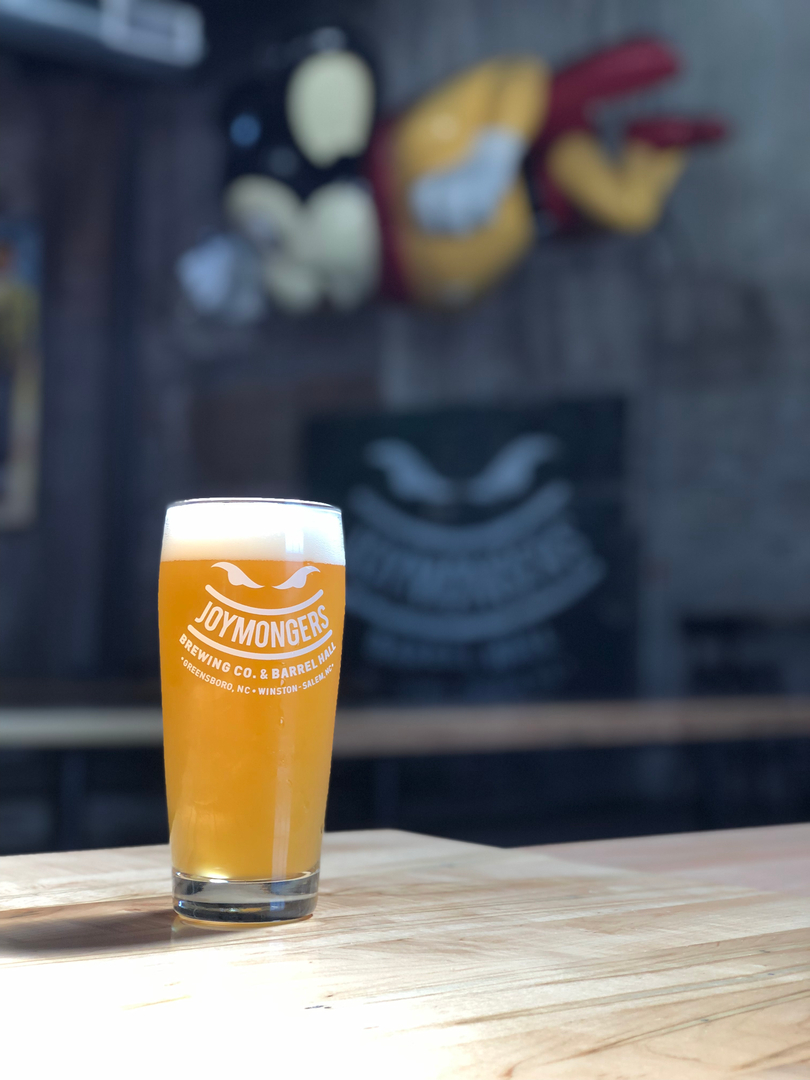 Joymongers Barrel Hall: Pilsner
Joymongers Barrel Hall's focus for spring is perfecting the pilsner. Brewed using a time-intensive process, the pilsner is a no-frills beer with a light malt character, and slightly bitter bite, courtesy of Mandarina Bavaria hops. Although this pilsner pairs well with just about anything, we recommend tacos from the El Taco Vaquero food truck or a poke bowl from West End Poke, located just up the street.

One of the only breweries in the nation that produces barrel-aged beer in a separate facility with its own taproom, Joymongers seeks to spread joy one pint at a time. Visit the renovated 90-year-old garage in Winston-Salem's historic West End neighborhood to try their new pilsner spring release and more than 17 other beers, seven days a week.
Wise Man Brewing: A Wonderful Trip
Make your next trip to Winston-Salem extra wonderful with Wise Man Brewing's newest brew: A Wonderful Trip. Produced in partnership with Four Saints in Asheboro, this wine-barrel-aged Brett Pale Ale is a variation of Wise Man's award-winning Belgian Pale Ale, Something Wonderful. The name "A Wonderful Trip" is fittingly inspired by lyrics from the Prince song Around the World in a Day, alluding to the beer's transformation throughout the aging process. Pair this refreshingly tart brew with goat cheese, a creamy pasta dish, or any kind of seafood.
Wise Man Brewing resides in the historic Angelo Brothers warehouse in the up-and-coming Industrial Hill neighborhood of Winston-Salem. After trying the new spring release, explore the neighboring Downtown Arts District, which features an eclectic collection of galleries, shops, restaurants, and nightlife.

More Places to Wet Your Whistle
In addition to the three highlighted here, Winston-Salem is also home to six other downtown breweries! Check out the newest addition Radar Brewing Company, located in hip and historic Industry Hill. Located in the revitalized Bailey Power Plant at Innovation Quarter, Incendiary Brewing's ever-rotating taps will always invite you back. Catch a game in the taproom at Fiddlin' Fish Brewing Company nestled in the Downtown Arts District. Go to the renovated West End Mill Works building to play some pinball at Hoots Roller Bar or wet your whistle at Hoots Satellite in the Downtown Arts District. Last--but certainly not least--explore Small Batch Beer Co., where craft beer is in good company of craft burgers and mile-high milkshakes donning toppings such as Krispy Kreme doughnuts and oversize cake slices.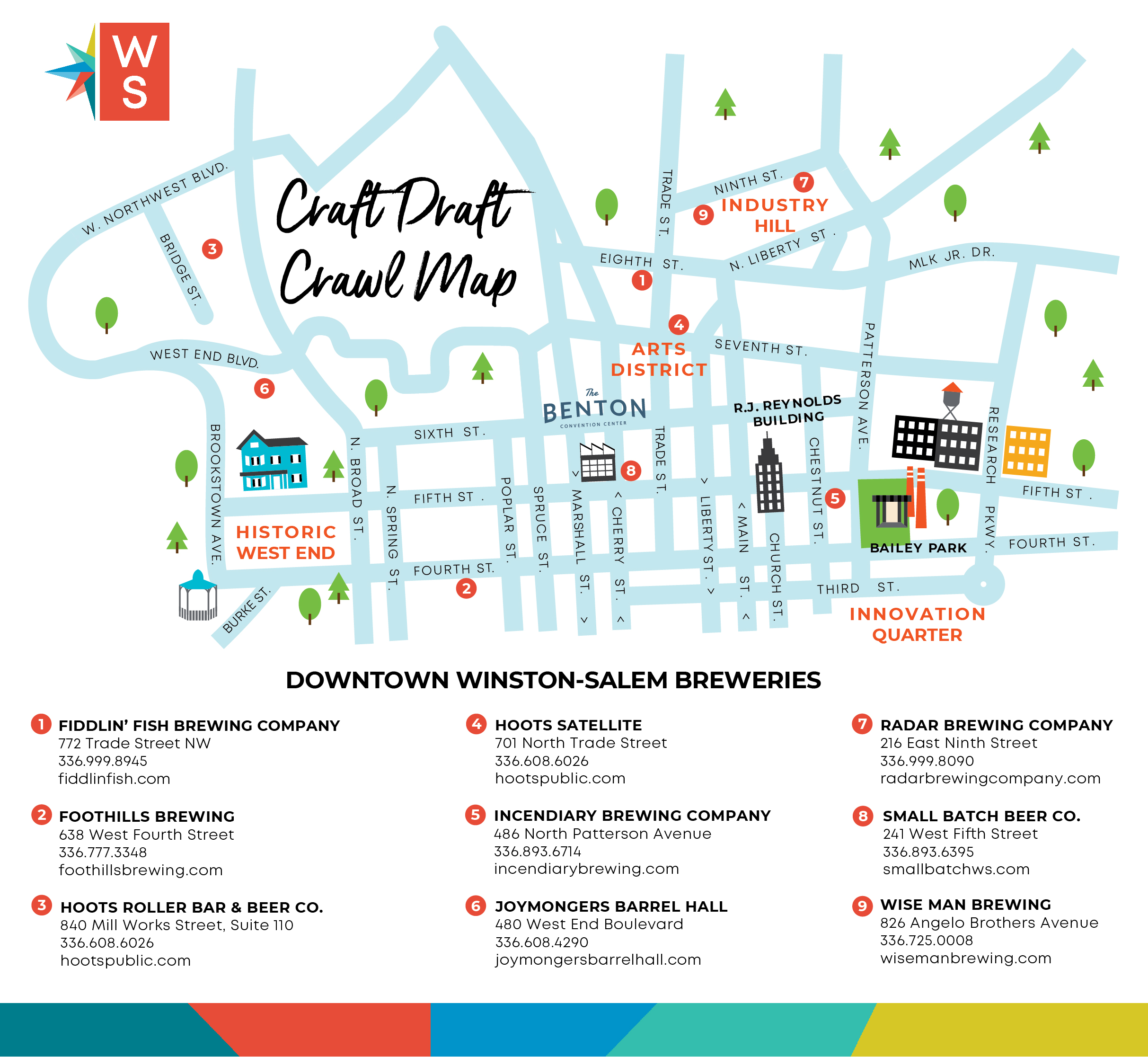 SPECIAL HOTEL PACKAGE
For the ultimate hops-inspired getaway, book the Foothills Brewing Craft Beer Package at the Marriott Winston-Salem Downtown.