Delight in the sights and sounds of over 265 years of historic holiday traditions in Winston-Salem. This holiday season, explore historic homes by candlelight, stroll cobblestone sidewalks with fragrances of pine bough decorations, and nibble on traditional Moravian holiday treats including whisper-thin cookies and decadent sugar cake.
Below is a listing of holiday happenings only experienced in Winston-Salem:
Experience Old World Charm:
A Tour Through Historic Homes
(historic homes listed in alphabetical order)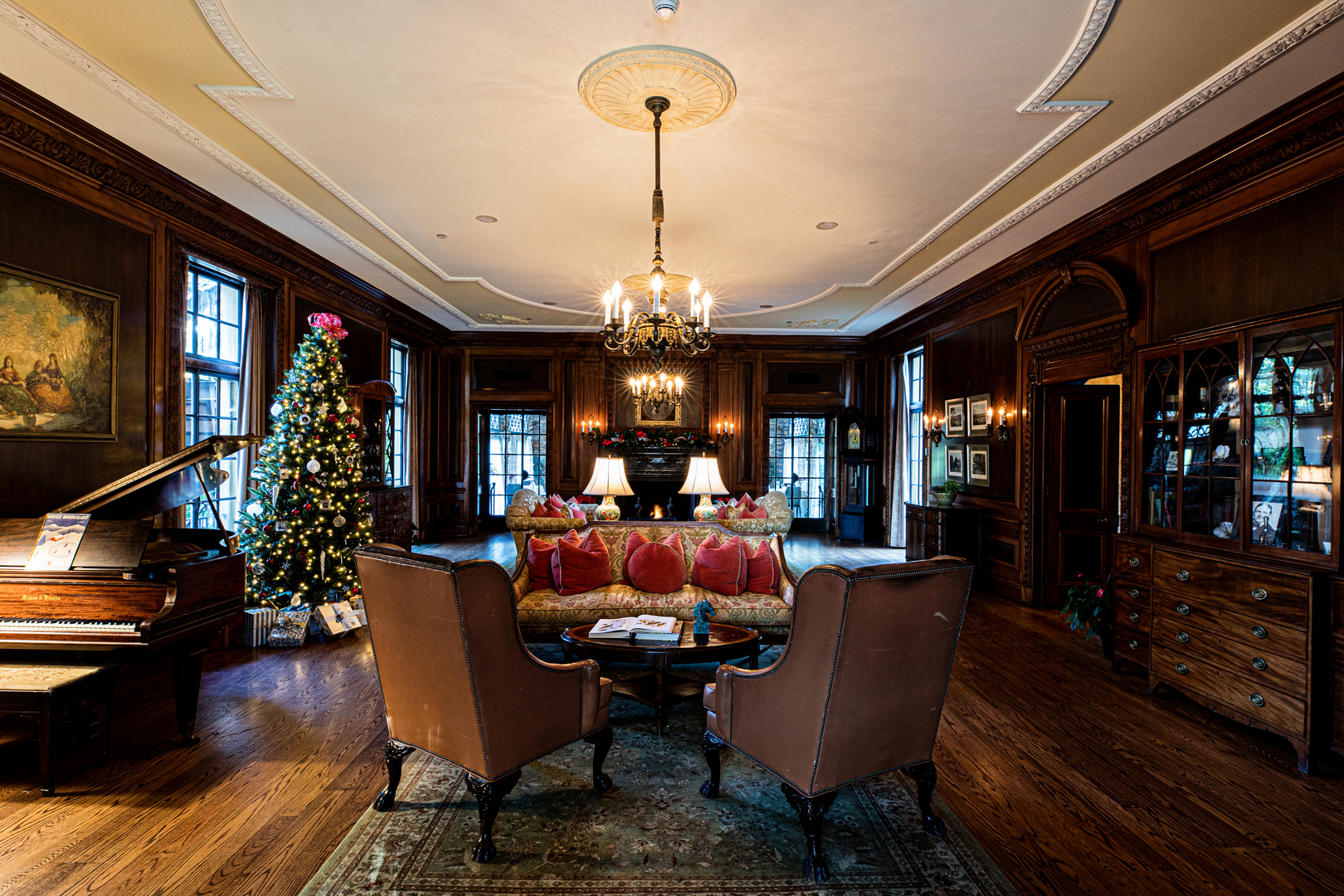 A historic boutique hotel in Winston-Salem, Graylyn Estate elevates your holiday getaway with rich traditions, festive decor, family-friendly activities, and even butler service. Built in 1932 by the then-president of R.J. Reynolds Tobacco Company, Bowman Gray, the 85-room estate sits on 55 acres on the pristine Reynolda Mile, just five minutes from downtown Winston-Salem.
In addition to holiday tunes filling the halls, flames crackling in fireplaces, wreaths adorning gates, garland winding staircases, and poinsettias all around, Graylyn decorates seven distinct Christmas trees that pay homage to a Gray family tradition. Today, it's a favorite among Winston-Salem visitors and locals alike.
Schedule an unforgettable family portrait session gleaming of historic charm and holiday cheer. Make a celebration of the occasion with add-ons including catered lunches, a hot cocoa station, or even a snow machine to really make the magic come to life.
For pricing and more information, click here.
Check out our special packages page for Graylyn and other hotel offerings here.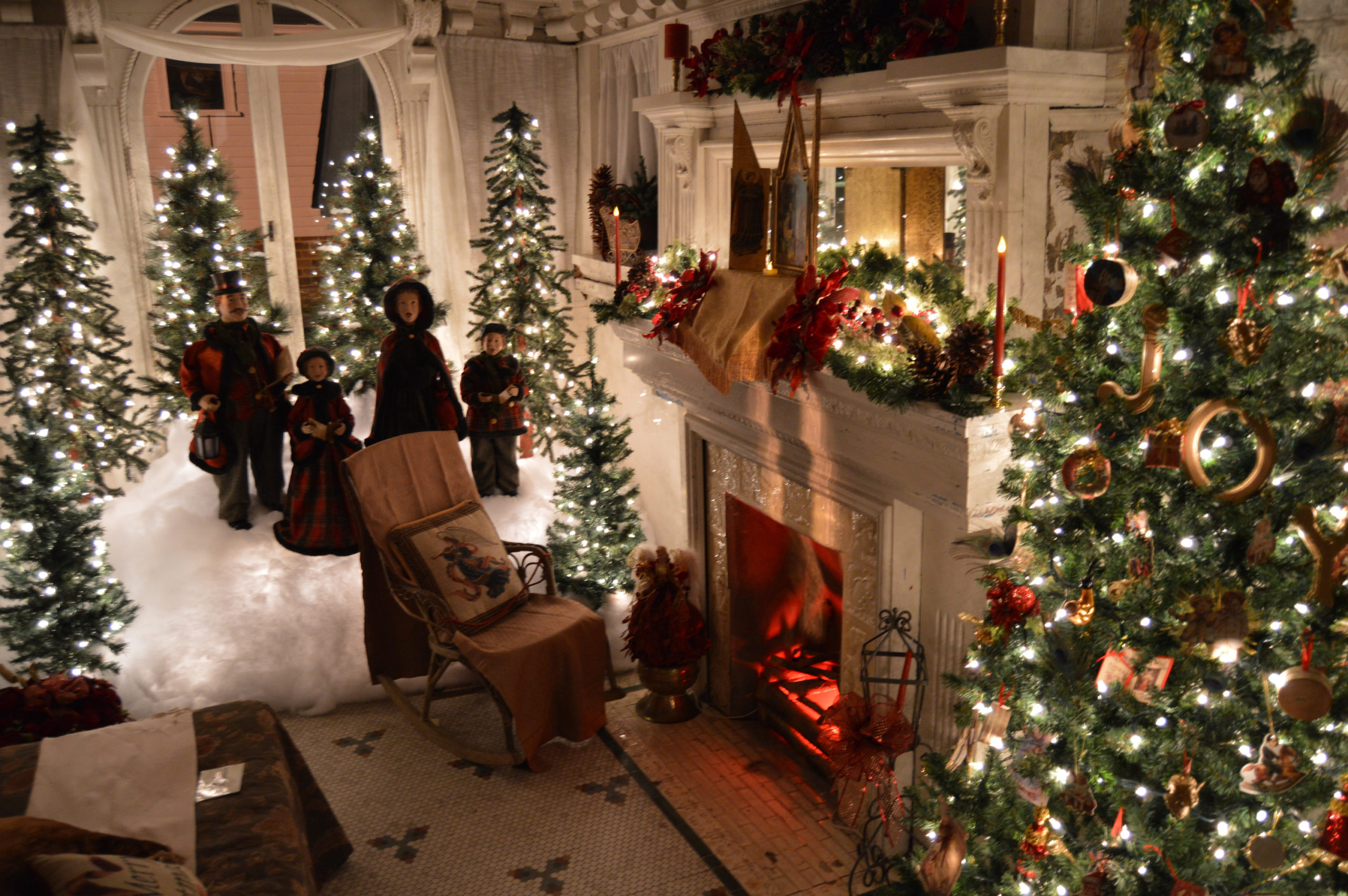 With three stories, seven levels, and 22 lavishly decorated rooms, Körner's Folly is often called "the strangest home in America." And every year at this time, it is also a beautiful showcase of historic holiday charm. Körner's Folly is nestled just 15 minutes from downtown Winston-Salem and offers self-guided tours to see the Victorian-inspired trees, garlands, and beautiful interpretations of this year's theme of "Christmas Carols."
The holiday season officially kicks off November 27 and includes "Christmas by Candlelight" tours, an inaugural holiday market, DIY craft workshops, and more.
To learn more and see a full calendar of events, go to https://www.kornersfolly.org/events/holiday-tours-events/.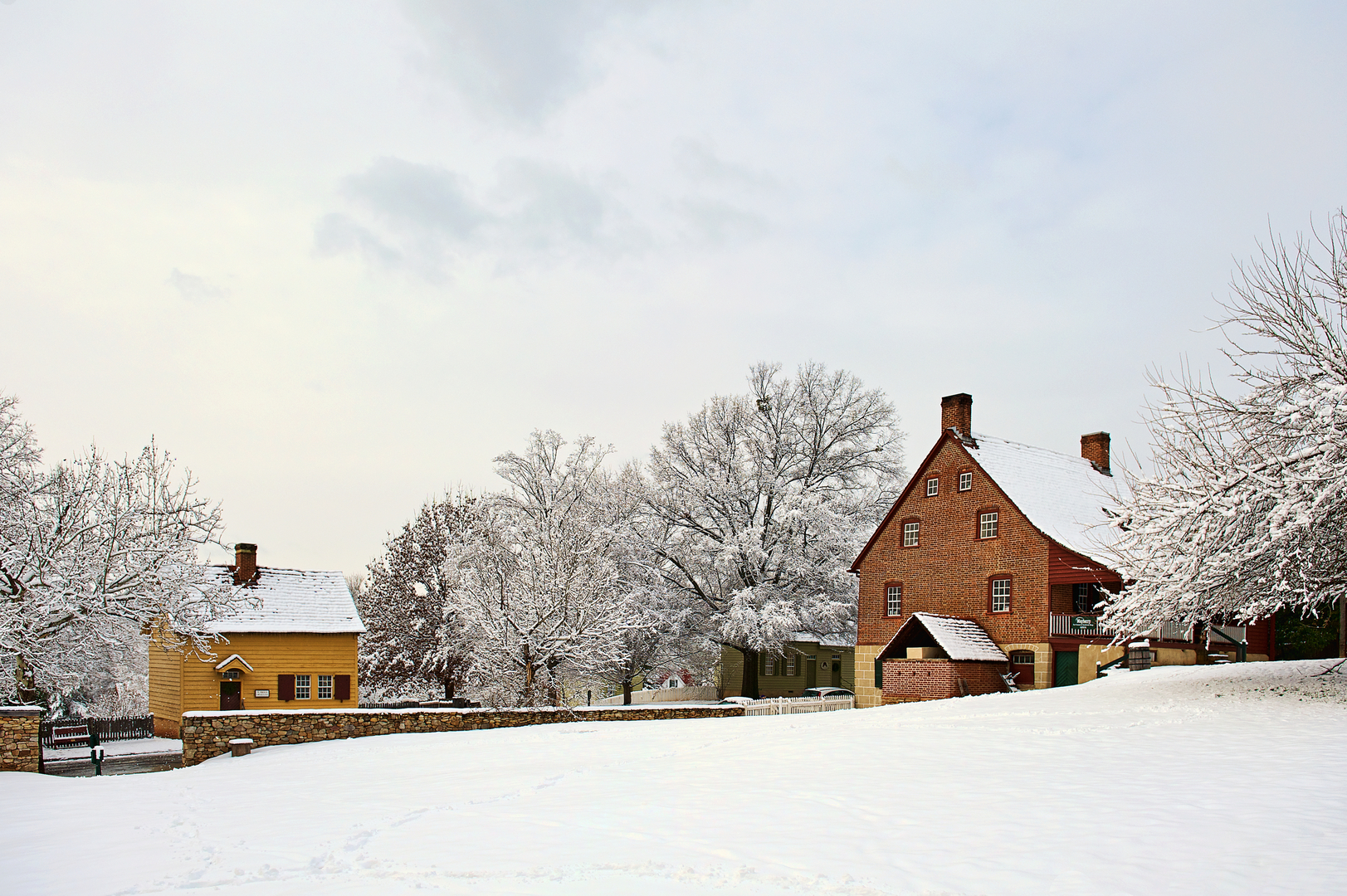 This holiday season, Old Salem Museums & Gardens is open, but different. Stroll the charming streets of Old Salem Museums & Gardens, lined with more than one hundred original historic buildings and structures, where the fragrances of pine bough decorations greet you. While visitors won't be able to enter the buildings, Old Salem is still the perfect place for you to escape the season's hustle and bustle and admire the 18th and 19th-century architecture and the simple, yet traditional, holiday decorations throughout the historic district. Pick up centuries-old recipes to share around your holiday table including Moravian sugar cake and the whisper-thin Moravian cookies at Winkler Bakery.
Be sure to make your way to Heritage Bridge for the perfect photo opp. Dozens of Moravian stars hang from the bridge making it a beautiful sight during the day or in the evening hours.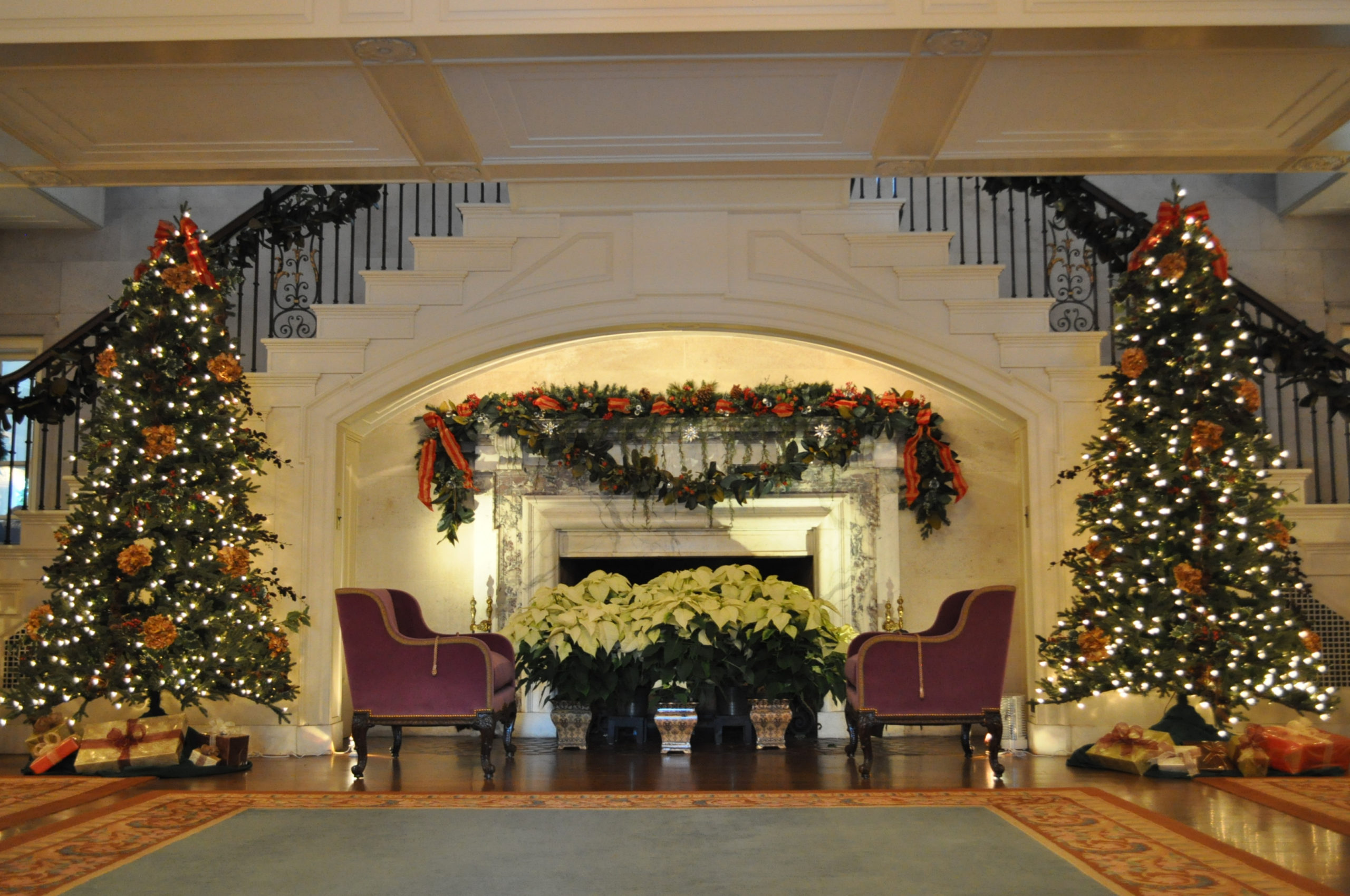 The 1917 historic home of tobacco baron, R.J. Reynolds, and wife Katharine, celebrates the holiday season in Roaring 20s fashion. Today known as Reynolda House Museum of American Art, the 34,000-square-foot country bungalow home welcomes visitors with period ornaments and fixtures, a select few of Katharine's holiday favorites including nandina berries and Southern magnolia greenery, and live holiday tunes played on the Aeolian organ.
The nostalgia of the season continues in the adjacent Reynolda Village and Gardens. Holiday events at Reynolda Gardens include wreath decorating workshops at The Barn in Reynolda Village and a holiday plant sale. Explore and admire the original architecture and history of each of the preserved farm buildings, which are now filled with unique boutique shops and restaurants. Warm up with a handcrafted made-to-order doughnut or hot chocolate in what used to be the main barn or savor a crepe at the old blacksmith's shop. Enjoy stress-free holiday shopping in what used to be the cattle shed, smokehouse, and many other charming cottages and buildings throughout the Village.
Admission to the gardens and the village is free year-round. Reserved tickets are required to tour Reynolda House Museum of American Art. View the full holiday program lineup at reynoldahouse.org/holidays.
Other Holiday Happenings (In Order by Date):
Tanglewood Park's rolling countryside transforms each holiday season into a shimmering Winter Wonderland with more than a million twinkling lights aglow. Entering its 30th season, the Festival of Lights at Tanglewood Park is open nightly from 6-10 p.m. starting mid-November through Jan. 1, 2022. Attendees drive through the winding countryside route taking in the spectacular sights of more than 80 displays while listening to festive tunes with original compositions from the UNC School of the Arts students.
This popular holiday event can have wait times of up to 3-4 hours. We suggest visiting on a weeknight when crowds aren't as large. To check out our Top Tips for experiencing the Festival of Lights, click here.
Festival Entrance Rates:
Entrance fees are paid at the gate. Cash or credit cards (VISA, Mastercard, and Discover only).
Family Vehicle (Cars, Vans, Trucks): $15
Commercial (Vans, Limos, Minibus): $35
Motorcoaches & Buses: $100 Due to safety concerns, riding through Festival of Lights in the back of a pick-up truck or in/on a trailer that is connected to a vehicle is prohibited.

2021 Dates TBD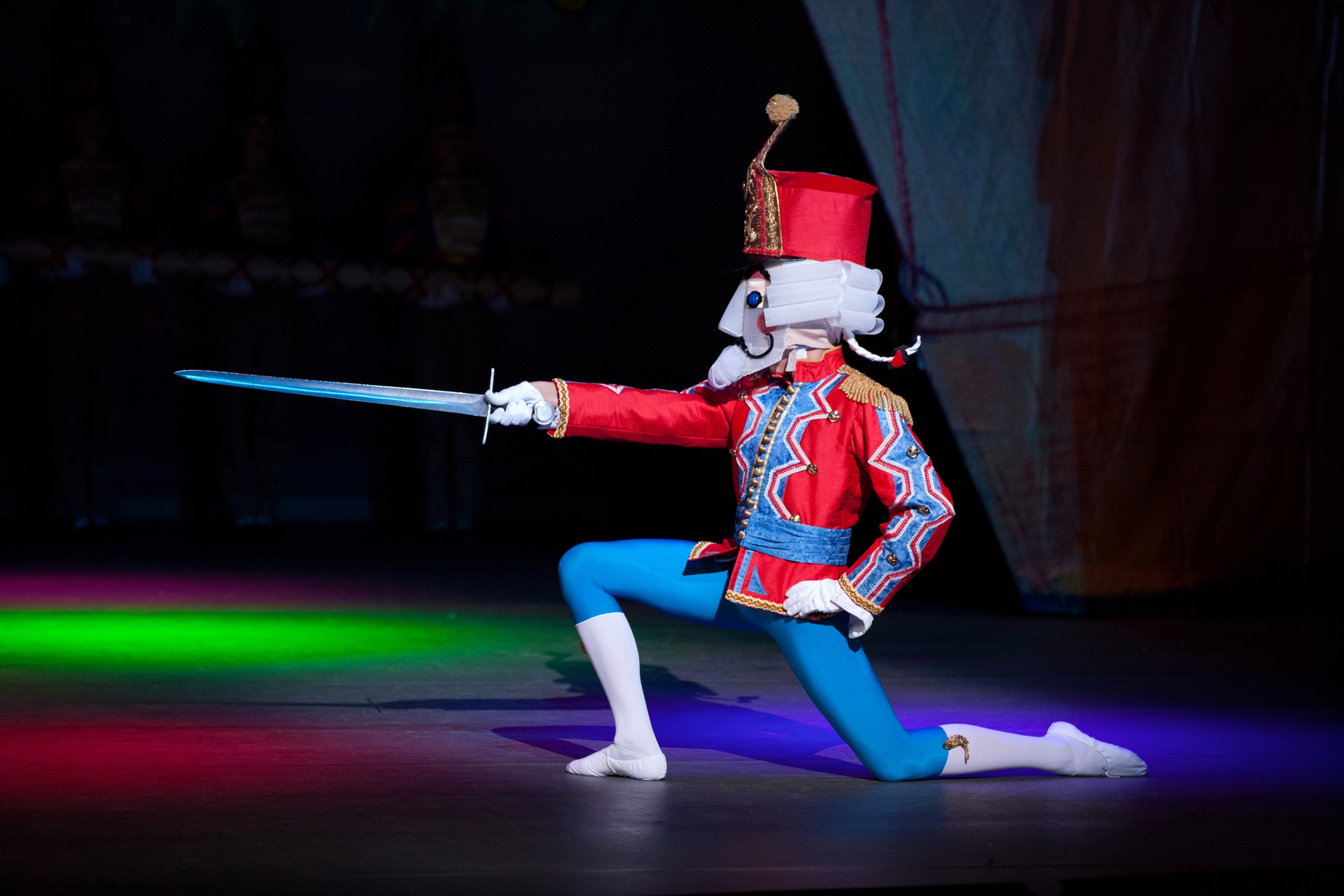 Experience the lush score, vivid staging, and magnificent performances that make UNC School of the Arts' "The Nutcracker" a cherished holiday tradition in Winston-Salem. This student-run production features world-class guest artists, a full symphony Orchestra (largest in the Triad), and of course, the school's highly acknowledged dance department.

Even in the height of winter, the gardens at Paul J. Ciener Botanical Gardens (PJCBG) are in full bloom. Known for its spectacular tulip display each spring, PJCBG lights up with an equally stunning display of lit tulips during the holiday season.
Now in its second year, volunteers and garden staff have worked tirelessly to handcraft more than 3,500 tulips and hundreds of other blooms from recycled plastic bottles, each one radiating holiday cheer. Enjoy a stroll through the dazzling wisteria lights, get lost in the illuminated trees along the patio terrace, and find more surprises as you stroll to the Performance Stage.
The evening light display kicks off each night from 5 to 10 p.m.

Conveniently located just 15 minutes from downtown Winston-Salem is the charming and historic Kernersville Museum. Their Hometown Christmas event promises to bring the magic of your favorite holiday movies to life right in the heart of downtown Kernersville. The popular synthetic ice rink returns this year along with a display of live decorated Christmas trees scattered throughout the property. Holiday photo op anyone?!
Find the "Wish Tree" in the heart of the village. Write down your wish, hang it on the tree, and let the magic of the holidays take it from there.
While here, be sure to pick up a live, fresh Christmas wreath for sale in the village. Perfect for your front door or mantel, the 12-inch wreaths are available for $25 and 16-inch wreaths are $35.
Holiday Hours:
The Museum is open for tours Tuesday – Friday 10 a.m. – 4 p.m. and Saturday 10 a.m. – 2 p.m.
The holiday village is open daily from 11 a.m. – 6 p.m.
Book Your Holiday Hotel Getaway!
(Click Image Below)