All of the Trail HANDS were created by accomplished and talented artists who live in and around Patrick County, Virginia. Each of the five women has their own style and voice and a very special connection to the beautiful region where they live and work.
The artists started with identical, 500-pound, white, concrete hands and were given three months to complete their amazing creations. Some of the designs are light-hearted, others are more reflective and serious. But all of the pieces reflect both the artist's connection with Patrick County, VA and the meaning of the Trail HANDS project.
Joyce Wray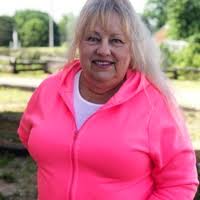 Joyce Wray is an artist/potter and art instructor trained in fine arts, design, and education. Her primary focus is making one of a kind RAKU pottery but is also an oil/acrylic painter. She is intrigued by unpredictable luster, movement of crazing, and shadows across the surface of raku.
Her Hand, "The Ever Changing Chair, Reflection" at IC Dehart is a design of mirrors and pottery tiles to reflect Patrick County as a place of contrasts, transitions, rich heritage, dreams in an ever changing environment full of walking trails with a plethora of hidden treasures yet to be discovered. The mirrors reflect the changing of the seasons and surrounding foliage and ever changing light on the mountains. Her hand represents how the colorful stories passed from generation to generation change and the best stories are yet to come.
Pepper Martin
Pepper Martin is a self-taught artist that began painting with an airbrush on motorcycles. After focusing for many years on dance and theatre, Pepper transitioned to the world of paint and hasn't looked back. Although her primary medium is oil paints on canvas you can find Pepper painting on everything from dumpsters to trucks and now hands. Pepper also works as a counselor and finds that one profession complements the other. Understanding people at an emotional level lends itself to stronger, more powerful artwork. Pepper hopes her artwork captures your attention and influences the way you feel about things.
Pepper's hand titled "All Trails Lead Home" at Reynolds Homestead, L.E.A.F. Trail is painted to resemble an antique map with trails marking historical spots throughout the county. Each finger of the hand represents a different landmark in the county all leading Home to the center of Patrick County.
Grace Helms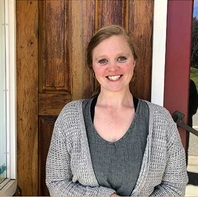 Grace Helms is a Patrick county Art Educator and Artist. She is can be seen throughout the county painting castles on library walls, leading art classes, and exhibiting student artwork. She grew up on a farm in Patrick County and has had a lifelong love of the county and art. She is in love with Jesus, her family, nature, teaching, and making art. She loves the process and development of herself through her art. Her art changes with the flow of life and her makings show the journey.
Grace's hand titled "Bridging Tradition" at Mountain Top Park is holding a large banjo made from everyday objects used in Patrick County. The tractor tire, (the musician's shirt), represents the farm. Metal found at a local sawmill, farms, and construction business are the neck of the banjo. The peghead is a tractor seat. The frets are made from rebar. The inlays are cut designs from parts of the local library. The body of the banjo is made from a retired fan representing warm summer nights in PC. The drum head is a Manhole. The bridge is a rake. The story is found in working hard by day and the music we play on our front porches in the evenings. These are the songs we pass down to our children. Our faith, hard work, and love for family are passed down from generation to generation. The welds represent the strength of community present in each locality in Patrick County, with each neighbor willing to lend a hand to bridge gaps and support a loving Patrick County tradition.
Sarah Reyburn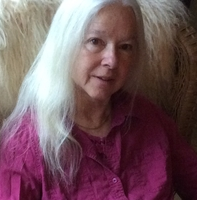 Sarah Reyburn is a creative artist and farm owner. Her art is always influenced by the environment and nature around her. She has been drawing all her life as a way of understanding the world around her. She also enjoys exploring many conventional and non- conventional forms of art such as silk painting and fiber arts. She loves representing nature realistically and also likes venturing into the realms of fantasy.
Sarah's hand titled "Mountain Leaves" at Dan River Park represents the changing leaves throughout the year in Patrick County with spring leaves on the fingers turning to colorful fall leaves on the base. The leaves represent trees that are indigenous to the area such as poplar, oak, locust, and maple.
Nancy Clark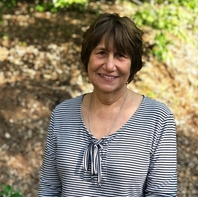 Nancy Clark, after a work history including nursing and counseling, found her creative voice by taking pieces of broken glass and forming them into works of art. She is an award-winning artist in warm glass art. She owns and operates First Dog Designs where she teaches adults and children glass art as well as creates. She has a love of nature and wildlife. There is a good chance you might see Nancy paddling her kayak on the Smith River.
Nancy's hand titled "The Family Feeling of Patrick County" at Mayo River Rail Trail was inspired by her visits and memories of Patrick County. Mosaic and fused glass techniques were used to make miniature visuals of things that represent Patrick County. Bicycling, vegetables, flowers, kayaking, fishing, wine, hiking, wildlife, covered bridges, Mabry Mill, and the Blue Ridge Mountains are a few of the examples that are hidden, both, in Patrick County and in her hand design.