Drink Pink Near Winston-Salem
Where to find the best Rosé
With warm Days Rolling In, Nothing says relaxation like a glass of chilled rosé. with more than 45 wineries in the nearby Yadkin Valley wine region, you have the perfect excuse to take a drive out of the city and treat yourself. here are 11 thirst-quenching rosé picks to sample and savor this season...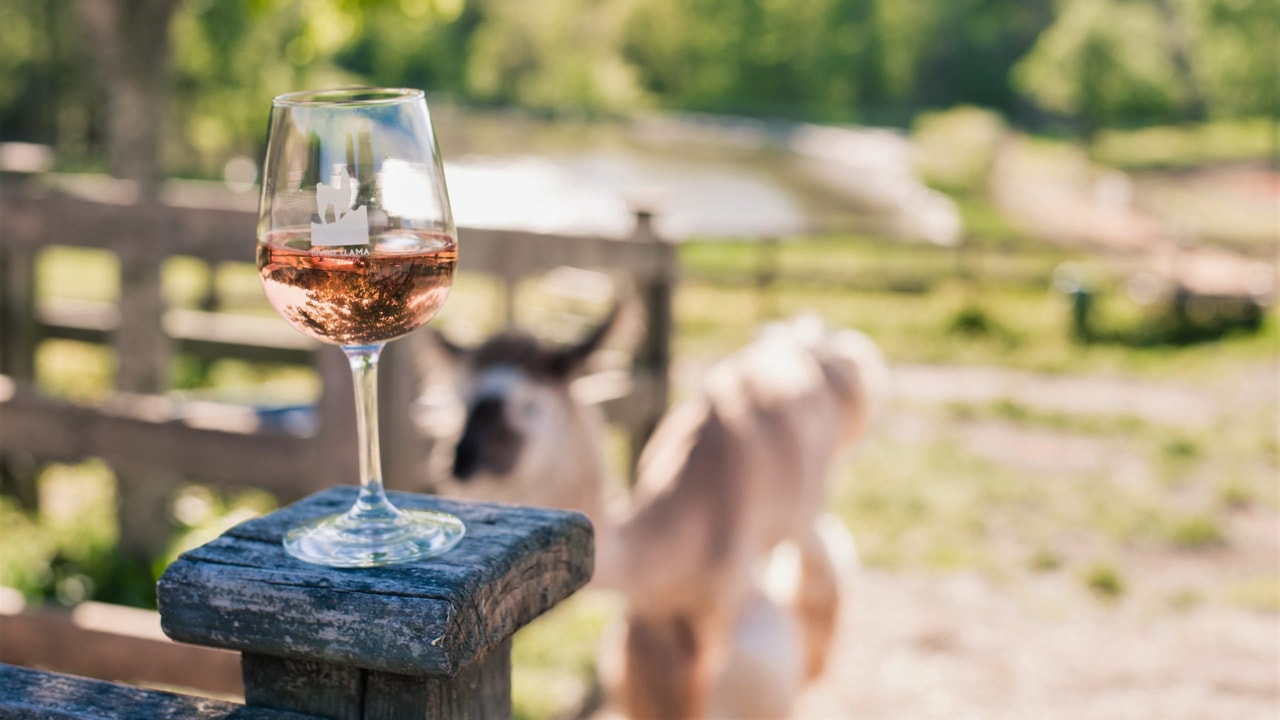 Red Rita Rosé at Divine Llama Vineyard
Named for the matriarch of the llama herd found only at this vineyard just outside of Winston-Salem, this rosé blends a little cabernet franc, some white varietals, and a touch of sweetness. The owners recommend pairing it with desserts.
Sip it: 4126 Divine Llama Lane, East Bend, NC 27108 | Driving time: 30 minutes 
The Pearl at Hanover Park Vineyard
Michael and Amy Helton have created a charming and idyllic escape at Hanover Park Vineyard, and the pet therapy is just a bonus. This rosé is lovingly named to honor the memory of the winemaker's Cavalier King Charles Spaniel and blends cabernet sauvignon with cabernet franc. Perfect for a picnic with finger foods!
Sip it: 1927 Courtney-Huntsville Road, Yadkinville, NC 27055 | Driving time: 28 minutes
Chill Merlot Blush at Hidden Vineyard
The difference between a blush and a rosé? It's the residual sweetness! Crisp and refreshing, the Chill is an off-dry blush wine featuring hints of strawberry, rhubarb, lime peel, and rose petals. It's like spring in a glass!
Sip it: 125 Hidden Vines Lane, Dobson, NC 27017 | Driving time: 37 minutes 
Special Delivery Rosé at Junius Lindsay Vineyards
Proprietor Michael Zimmerman likes to say his vineyard was "conceived in France and born in the Yadkin Valley." These Old World and French inspired wines boast several varieties, including their Special Delivery Rosé. Like it bubbly? It comes in that variety too!
Sip it: 385 Dr. Zimmerman Road, Lexington, NC 27295 | Driving time: 18 minutes 
Signature Rosé at Medaloni Cellars
Located just 15 minutes from downtown Winston-Salem, Medaloni offers their Signature Rosé available on tap (yes, on tap!) as you absorb the beauty of its 22 acres of lush, rolling hills. Better yet, reserve one of their signature cabins for a sweet spring getaway.
Sip it: 9125 Shallowford Road, Lewisville, NC 27023 | Driving time: 17 minutes 
Fizzzy Rosé at RayLen Vineyards
Mango, honeydew melon, and fresh cut flower notes introduce the RayLen Fizzzy Rosé. Sip these bright and bold flavors chilled and straight from the can — convenient poolside, beachside, or at your next picnic.
Sip it: 3577 US-158, Mocksville, NC 27028 | Driving time: 21 minutes
Knockout Rosé at Serre Vineyards
Be greeted at Serre Vineyards by decadent wine paired with twinkling lights and picturesque mountain views. A bottle of their bubbly and bone-dry Knockout Rosé is the perfect way to celebrate an engagement, a job promotion, or just a regular Thursday.
Sip it: 364 Beast Trail, Mount Airy, NC 27030 | Drive time: 52 minutes   
Minuet at Adagio Vineyards
This dry rosé is barrel fermented and made from both cabernet franc and petit Verdot, not to mention it won the bronze medal at the 2021 North Carolina Fine Wines Competition. If you're a cheese lover, this is the rosé for you.
Sip it: 139 Benge Drive, Elkin, NC 28621 | Drive time: 44 minutes
Classic Rosé at Childress Vineyards
Owned by former NASCAR driver Richard Childress, this vineyard consistently brings world-class wines to market and their impressive tasting room. Try their three different rosés including two sparkling rosé options.
Sip it: 1000 Childress Vineyards Road, Lexington, NC 27295 | Drive time: 21 minutes 
Rosa Dia Still Wine at Jones von Drehle Vineyards & Winery
Harvested in the cooler morning hours, this true pink rosé accentuates the color, sweetness, and acid adored in this style libation. This family-owned vineyard is surrounded by the Blue Ridge Mountains. PRO TIP: Imbibe with goat cheese!
Sip it: 964 Old Railroad Grade Road, Thurmond, NC 28683 | Drive time: 53 minutes 
Mountain Park Dew at Golden Road Vineyards
This delightful and refreshing fruit forward sweet wine comes from merlot grapes and has a soft pink hue. A place of unrivaled beauty, Golden Road Vineyards is nestled on a 25-acre former cow pasture offering picturesque vistas of the Blue Ridge Mountains.
Sip it: 542 Golden Road, State Road, NC 28676 | Drive time: 51 minutes