8 Fabulous Fall Drives Near Winston-Salem
---
Discover the most scenic drives in and around Winston-Salem, plus insider tips and must-see sites along the way.
---
We like to take the long way home during the fall months, traveling down back roads and soaking up seasonal tones. While the nearby Blue Ridge Parkway draws millions of leaf-peepers each year, you'll find plenty of fall color in and around our fair city. Whether you're looking for a quick, in-town loop or an all-day autumn excursion, here are a few drives we go out of our way to make each autumn.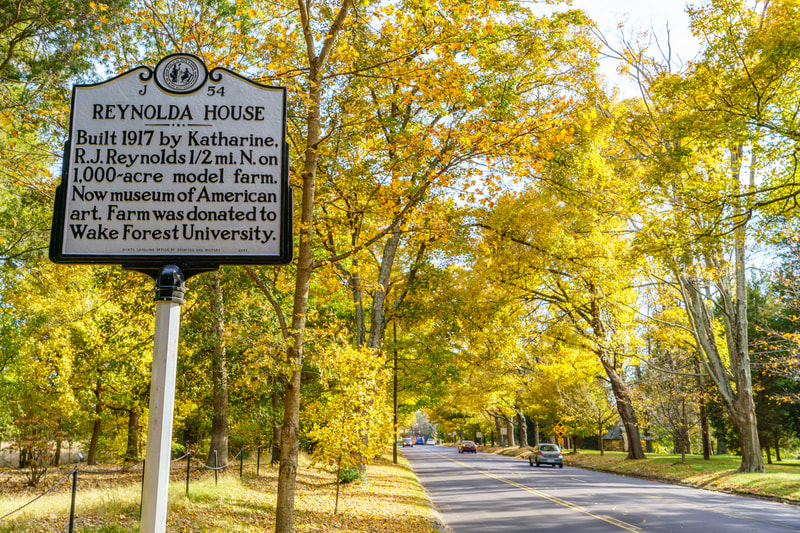 The "Reynolda Mile," a picturesque stretch of Reynolda Road between downtown and Wake Forest University, is lined with historic estates and shaded by hardwoods. While it's a pretty drive throughout the year, it shines a little brighter in the fall when the leaves are blazing and the sunlight peeks through the branches. Start your trip around Hanes Park and head north on Reynolda Road toward Wake Forest University. Along the way, you'll pass Crosnore Children's Home, Graylyn estate, and Reynolda Village, covering around 3.5 miles, making it perfect for a quick fall refresh. 
BONUS TIP: Once you reach Reynolda Village, you can extend the drive a few more miles by circling through the campus of Wake Forest, which was named the prettiest fall campus in America by BestCollegeReviews.org.
---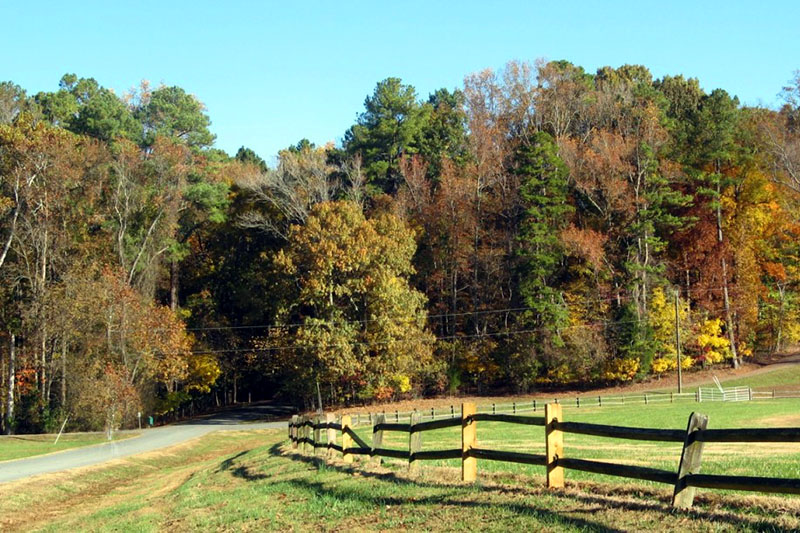 Tanglewood Park doesn't just shine during the holidays. Head to the park in the fall — a few weeks before its annual Festival of Lights display — and you'll be treated to an equally enchanting spectacle. That's when its rolling meadows and wooded trails are painted in blazing tones of orange, purple, and red, creating a crisp, colorful experience. The park is located in the Village of Clemmons, about 15 minutes west of downtown Winston-Salem. After paying $2 to enter the park, you'll take a 5.1-mile loop through the park's 1,100 acres, passing by horse stables, duck ponds, hilly meadows, and multiple golf courses. Plenty of noteworthy sites and stopping points exist along the route, including an 1894 locomotive, a 215-year-old church, and a picturesque lake where pedalboats can be rented. However, if you only make one stop, make sure it's at the Tanglewood Arboretum, a 3.5-acre garden adjacent to the Tanglewood Manor House that dazzles with native flora and seasonal color.
---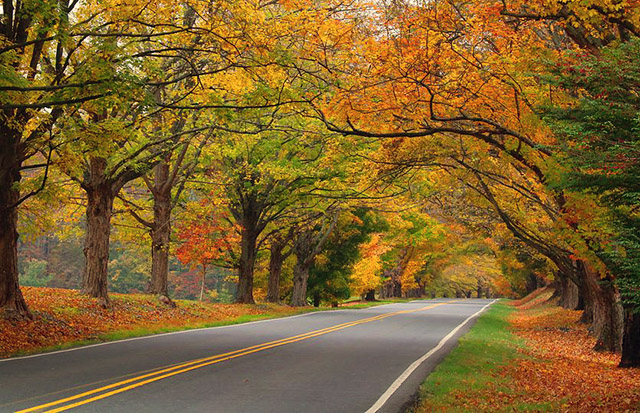 Conrad Road in Lewisville features one of the prettiest sights in our part of the world — a tunnel of colorful maple trees that run for nearly a mile. The trees are appealing all year, but they really seem to radiate in the fall, and the road's pastoral backdrop only adds to the appeal. The "tunnel of trees," as locals often call it, sits 15 minutes west of downtown Winston-Salem. To get there, take U.S. 421 to the Lewisville exit (244) and turn onto Shallowford Road. You'll continue down Shallowford for a few miles before reaching Conrad Road. After you pass beneath the trees, you can turn around and retrace your route through Lewisville or continue down Conrad Road, past the Old U.S. 421 intersection, where it turns to Yadkinville Road and connects back to Winston-Salem.
---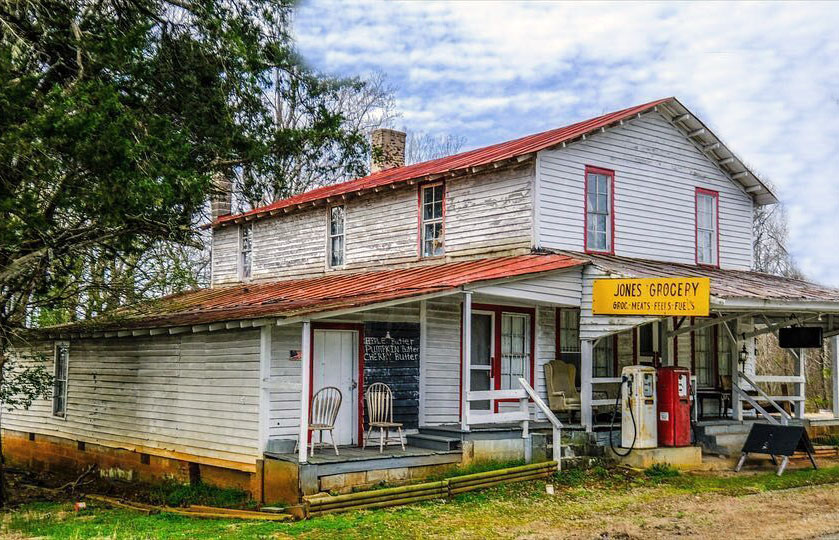 Lewisville Loop: Shallowford Road in Lewisville is also the starting point for another favorite drive in the area (mainly for those looking to explore the local adult beverage scene). You'll head west along U.S. 421 for 10 minutes before exiting onto Shallowford Road (Exit 246). After turning left at the top of the exit ramp, you'll begin looping through the western edge of Forsyth County via Shallowford and Williams Road. Along the way, you'll pass by an award-winning winery (Medaloni Cellars), a beloved local brewery (Incendiary), and a historic distillery (Old Nick Williams), all within a 10-mile stretch. Williams Road eventually intersects with U.S. 421, and it's a 15-minute drive back to Winston-Salem from there
BONUS TIP: Among the other sites you'll encounter along the loop is the old Jones Grocery Store, a historically significant (and photogenic; see above) country store that dates to 1875. (While the store closed for business decades ago, the site was taken over by the Lewisville Historical Society.)
 DAYTRIP DRIVES
Looking to make a day of it? These short drives from the city offer countryside views, one-of-a-kind sites, and plenty of seasonal color.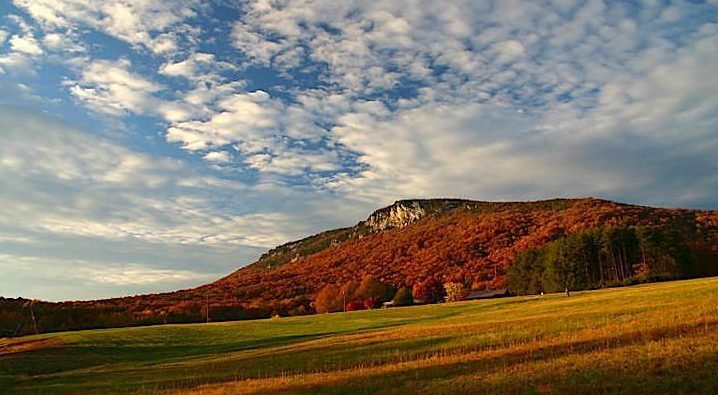 Sauratown Mountain Loop: We like to begin this twisty ride through the Sauratown Mountains near Horizon's Park in northern Winston-Salem. From there, head north along Highway 8 to Danbury, NC, where you can make a pit stop at the famed Priddy's General Store, a classic mom-and-pop shop now eternalized thanks to the cult classic film "Cabin Fever." From there, we like to take Hanging Rock Park Road to Moores Spring Road, then make a quick pass along Mickey Road (pictured above). This is where the scenery shifts from impressive to spectacular, as Mickey Road traces the edge of Hanging Rock State Park through dense forests and wide-open fields, akin to a mini Blue Ridge Parkway. 
Mickey Road eventually reunites with Moores Spring Road and N.C. 66 — and from there, it's a 20-minute drive south back to Winston-Salem. However, before you return to town, we recommend making one more stop. Once you reach the intersection of Moores Spring Road and N.C. 66, you're only a few miles from one of our favorite hidden-history sites, the John Martin House (aka, the Rock House), a two-story fieldstone ruin built in 1785. While you can't enter the house, the structure is still an absolute must-see, unlike anything you've probably seen before.
---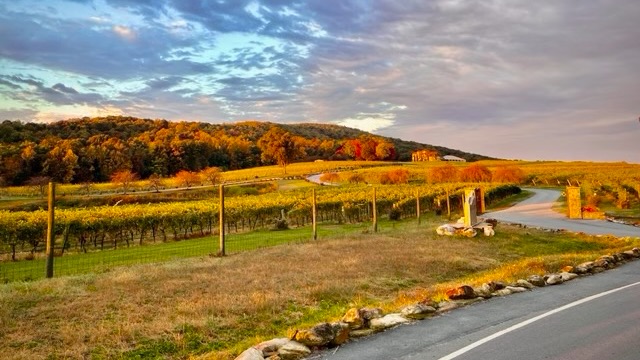 Yadkin Valley Scenic Byway: This two-hour loop takes you through the North Carolina foothills and the heart of Yadkin Valley Wine Country. The byway begins on NC-89 at the Round Peak Church Road intersection, about a mile from Round Peak Vineyards. From there, you'll drive south through foothills and farmland, passing by vineyards, rivers, and several historic structures. (For a detailed look at the route, click here.) You'll see Pilot Mountain's distinctive knob peering over the treetops for much of the drive. You'll also pass by a handful of Yadkin Valley wineries, including four vineyards along the Swan Creek Wine Trail, all tucked along a five-mile stretch near Hamptonville. The Swan Creek area is also where you'll find Shiloh General Store, an Amish-operated shop offering fresh-baked goods, old-timey toys, Amish furniture, and more. (It's an absolute must-stop along the way.)
---

Flint Hill Ramble: One of North Carolina's most under-the-radar Scenic Byways, the Flint Hill Ramble is a short but sweet ride through remote sections of the Uwharrie National Forest. While the byway is only five miles long, it packs in a lot of scenery, making us feel like we're rambling through the Great Smokey Mountains (not central North Carolina). Along the way, you'll get an up-close view of the forest's main attraction — the beautiful (and slightly eerie) Uwharrie Mountains, an ancient mountain range formed by volcanoes more than 300 million years ago. The byway begins about an hour southeast of Winston-Salem. The quickest way to get there from Winston-Salem is to take I-74 east through Asheboro, NC, to U.S. 220 Business (Exit 88). You'll reach the byway's starting point about 15 minutes after departing the interstate. (TIP: Plug Flint Hill Ramble into your GPS from Winston-Salem.) Halfway along the route, motorists will find the trailhead for Jumping Off Rock, a cliff that peers out over rippling blue waters. 
BONUS TIP: The Flint Hill Ramble is a short drive from another scenic byway, the Uwharrie Scenic Route, which runs 50 miles from Asheboro to Concord, NC. 
 
---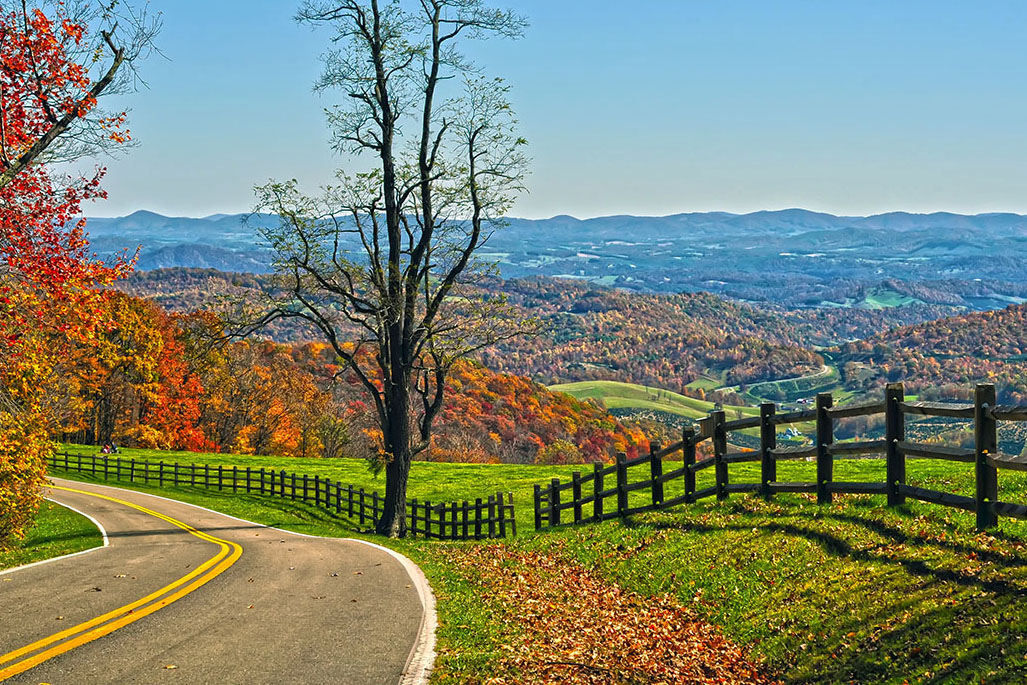 Highway in the Sky (Fancy Gap loop): If you're looking for a fast route to the Blue Ridge Parkway, this quick shot north will have you cruising on "America's Favorite Drive" in just under an hour. Along the way, you'll be treated to one of the most jaw-dropping interstate views on the East Coast. From downtown Winston-Salem, head north on US-52/I-74 en route to Fancy Gap, VA. (We like to plug Fancy Gap Pottery & Fabric Outlet into Google Maps and follow the cues there.) As you head north 52, you'll pass by hilly farmland and a few rocky outcrops, including Pilot Mountain, as the elevation slowly builds. You'll eventually merge onto I-77 and head north to Wytheville, crossing the Virginia state line. That's where the breathtaking views really come into focus as the interstate chugs up the side of the Blue Ridge Mountains. As you ascend into the clouds, you're treated to sweeping views that seem to go on forever. Look closely, and you'll see Pilot Mountain's famed knob once again — only this time, you'll be looking down on it — and if the skies are clear, you'll see Winston-Salem's skyline rising in the distance.
The breathtaking views eventually give way to rolling countryside as you approach the exit for Fancy Gap (Exit 8). From there, you can begin your slow glide back to Winston-Salem by hopping on the Blue Ridge Parkway near the Fancy Gap Pottery & Fabric Outlet. After entering the parkway, you'll trek south for a half-hour, past soft green hills and bluish mountain peaks, toward Blue Ridge Music Center. Not far from there, you can take the Highway 89 exit off the parkway and begin your hour-long journey back to Winston-Salem, just in time for dinner.