Our Favorite Spots for Fried Chicken
---
Cozy up with the ultimate Southern comfort food — fried chicken — the star of game-day spreads and Sunday suppers across the city. 
---
Here in the south, we love fried chicken year-round. We love it in the spring, and we love it in the summer. (We even occasionally love it for breakfast.... hello chicken and waffles!) Luckily in Winston-Salem, we've got plenty of places to get our fried chicken fix, including a few places that take the Southern staple to the next level, infusing it with signature sauces and secret ingredients. Here's a roundup of some local go-to spots for a crispy, tender fix.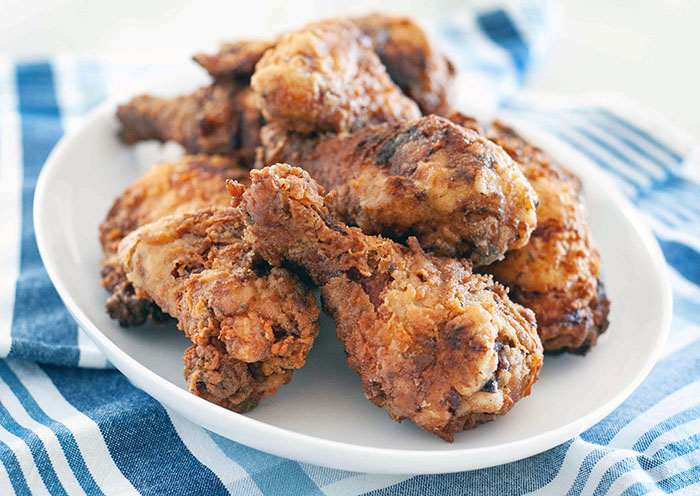 ---
Milner's American Southern
630 S. Stratford Road
Milner's serves their buttermilk and Texas Pete marinated 10 oz. boneless breast, fried crispy alongside Carolina Gold rice, collard greens, and tomato gravy. Yeah, you read that right, that's tomato gravy y'all!
---
Mozelle's Fresh Southern Bistro
878 W. Fourth St.
For a sweet and savory twist to your fried bird, head over to Mozelle's. Named after the owner's grandmother, Mozelle's is a staple for fine Southern cuisine with signature menu items including savory tomato pie and signature pull pork spring rolls. But the real showstopper is the fried chicken, topped with warm peach chutney and sides of your haricot verts and creamy macaroni and cheese. Really want to up the ante? Swap out the haricot verts for the spicy collards w/ bacon. You can thank us later.
---
Simply Soul Restaurant
4339 S Main St.
Family-owned and operated, this soul food restaurant is nestled on the southernmost side of Winston-Salem where food is certainly worth the drive. Tender, moist fried chicken wings, breasts, and all those things! The husband-and-wife duo catered for 13 years prior to opening the restaurant in 2012, so believe us when we say that their recipe is one that stands the test of time. Psst...here's a little secret: some of the best peach cobbler in town, but you didn't hear it from us!
---
Slappy's Chicken
200 W. Acadia Ave.
Slappy's set the local food scene ablaze when it opened in 2016 thanks to its signature NC-style hot chicken — which comes smothered in a savory, spicy-sweet homemade sauce. The chicken is available in either quarter- or half-sizes and complemented by a variety of Southern-inspired sides — bacon-laced potato salad, tangy collard greens, gooey mac 'n' cheese, and more. 
Stationed in the old Acadia Grill location in Washington Park — about 5 minutes south of downtown — Slappy's closed in early 2021 to tackle an extensive renovation project, one that took more than two years to complete. Now, with the repairwork thankfully complete, Slappy's is back doing what it does best — serving up the best hot chicken in town (and perhaps the universe).
---
Spring House Restaurant, Kitchen & Bar
450 N Spring St.
The Colonel is what they call it. And we "luv" it! Housed in the last remaining mansion on what was once referred to as "Millionaire's Row," Spring House executive chef, Timothy Grandinetti rotates the menu items on a seasonal basis but one signature dish that simply cannot go away is The Colonel fried chicken entree. The crispy buttermilk fried chicken is served with sawmill gravy and smoked tomato and pimento cheese grits. It's a progressive spin on a soulful, Southern favorite.
---
Sweet Potatoes Restaurant + Miss Ora's Fried Kitchen
607 N. Trade St. 
Showcasing a menu of Southern foundation and creole inspiration, Sweet Potatoes owners Vivian Joiner and Chef Stephanie Tyson have filled the bellies of tourists and residents alike since 2003. For dinner, we suggest the "Smothered Yard Bird," a pan-fried chicken breast with country ham, spicy greens, and melted Brie smothered in chicken gravy and served over rice. Or, "Mambo Chicken," a fried chicken breast served on a brioche bun with fresh coleslaw and signature Mambo sauce.
Sweet Potatoes' fried chicken became so popular that it prompted the owners to open a sister restaurant, Miss Ora's Kitchen, next door in 2017. While the spot temporarily closed in 2020 because of COVID concerns, it reopened in September 2022, much to the delight of local fried chicken fanatics.
Named after Chef Stephanie's grandmother, Ora Porter, Miss Ora's focuses on fried chicken and little else, offering a variation of the bird that's lightly coated with seasoned flour and fried in cast-iron skillets. It's decidedly different from the buttermilk fried chicken found next door at Sweet Potatoes — but rest assured, it's equally delicious. 
---
MORE FINDS
Savor a bite of crunchy goodness at other these other locally owned eateries that offer fantastic fried chicken.