Fall Foliage Peeps & Peaks
The views from the mountaintop may require a bit more time and energy but the scenic views of fall foliage are well worth the hike. A getaway to Winston-Salem this fall conveniently places you just 30 minutes from two state parks (and nearby wineries to reward yourself!). Prefer a foliage excursion closer to the ground? We've got those as well!
Here's your Fall guide to "Peeps & Peaks" in Winston-Salem:
Admire the Views from Above…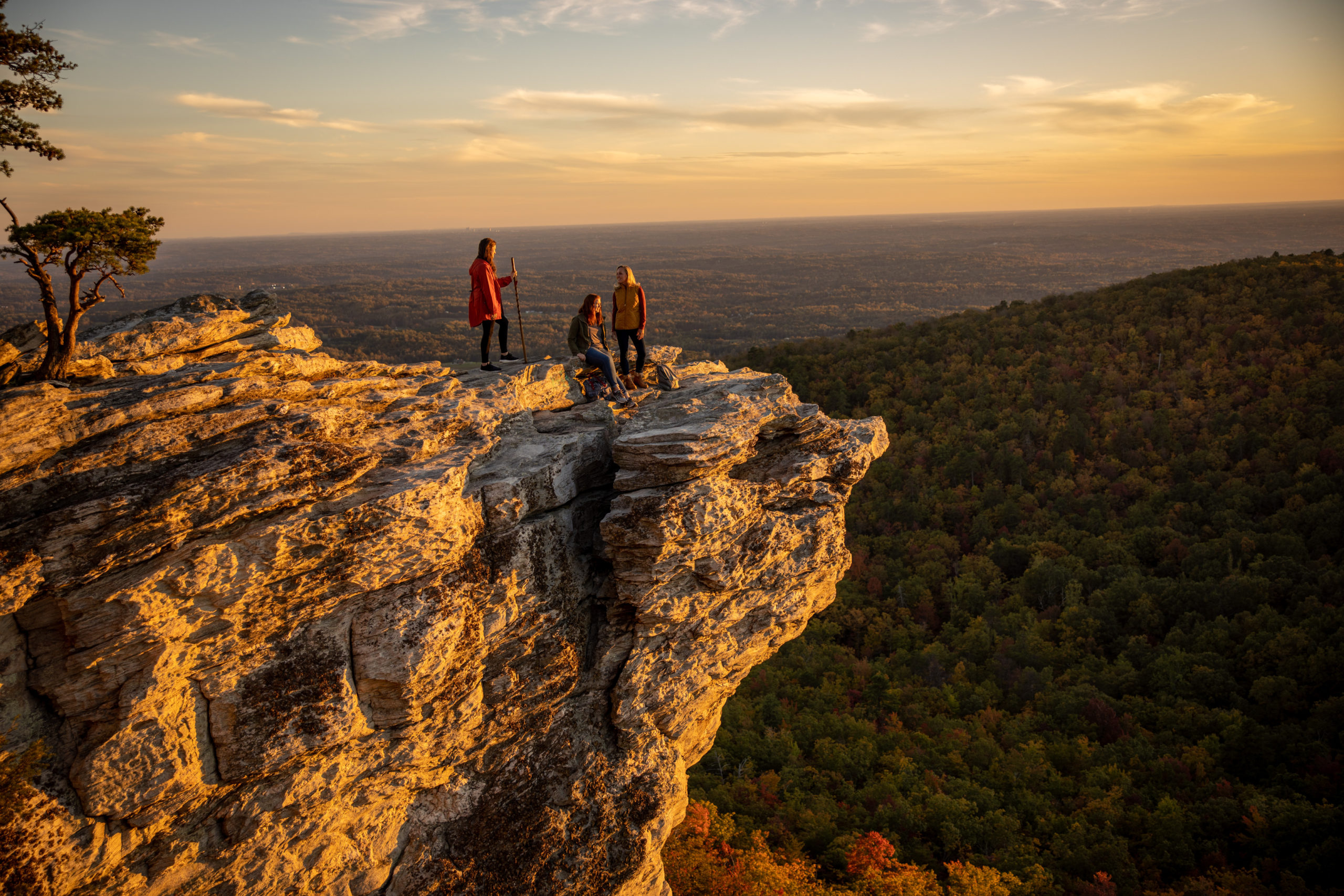 Hanging Rock State Park (http://www.ncparks.gov/hanging-rock-state-park)
Meandering pathways along clear streams lead to awe-inspiring waterfalls at Hanging Rock State Park. Venture out on one more than 20 miles of trails of varying challenge levels. A "moderate" hike along the Cook's Wall Trail brings you to sweeping views of the Sauratown mountains and the iconic Pilot Mountain viewable. For an easier trek (relatively speaking), opt for Tory's Den Cave and Waterfall Trail. This quarter-mile trail (one-way) features a 20-foot cave with Revolutionary War-era historical significance and leads to the park's tallest waterfall. The trails here are wide enough for small children and leashed dogs to navigate with ease. If you'd prefer to admire the foliage from the water, rent a canoe for a relaxing paddle on the Dan River. Plan ahead and pack a picnic chock full of Winston-Salem goodies!
For information on park hours, safety guidelines, and directions to different access points, click here.
Park Details:
Phone: 336-593-8480
Email: hanging.rock@ncparks.gov
Addresses
Park Entrance
1790 Hanging Rock Park Road
Danbury, NC 27016
GPS: 36.4119, -80.2541
Visitor Center
1005 Visitor Center Drive
Westfield, NC 27053
GPS: 36.3952, -80.2665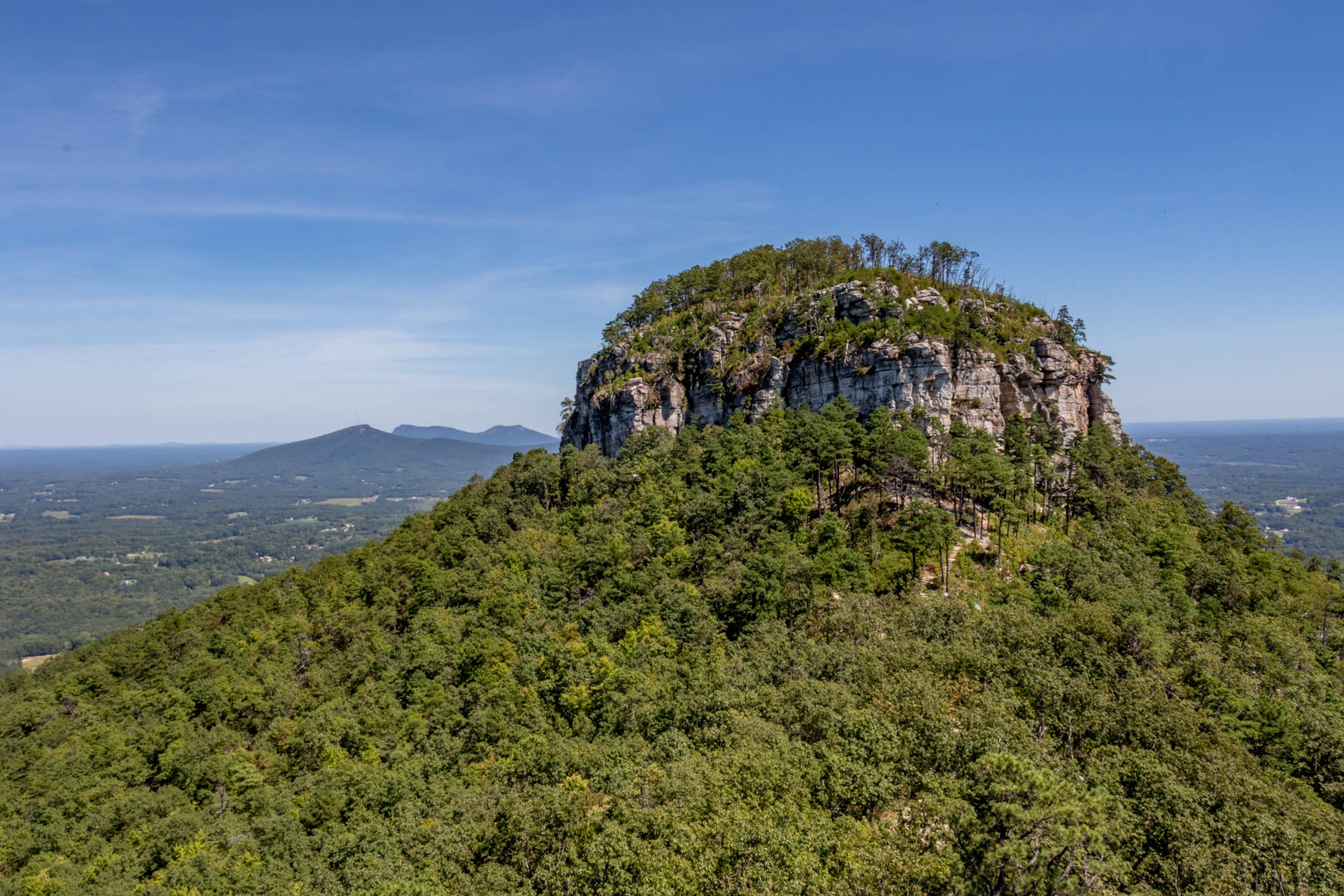 Pilot Mountain State Park
Known for its iconic rounded peak (at 2,000 feet!)—Pilot Mountain State Park offers miles of winding trails to take in beautiful views, especially in the fall season. Early Native American and Moravian settlers would use the peak as a guiding beacon to literally help navigate (or pilot) their journey – thus the name! Choose your own adventure from beginner to advanced, whether hiking or biking. Rock climbing and rappelling are also allowed on portions of the park's cliffs. An ascent to the summit, Pilot Mountain rewards you with striking long-range views of the entire region, including Sauratown and Blue Ridge Mountains. Pilot Mountain also offers canoeing along portions of the Yadkin River.
Be sure to plan ahead, especially when traveling on a weekend. The park can be over capacity as fall is a popular time to visit. Shuttle service is also provided from the Pilot Mountain State Park Visitor Center up to the summit area and much be purchased in advance. See more details here.
Park Details:
Phone: 336-444-5100
Email: pilot.mountain@ncparks.gov
Address (Mountain section and visitor center)
1792 Pilot Knob Park Road
Pinnacle, NC 27043
GPS: 36.3412, -80.4629
More Foliage Finds from the Terra Firma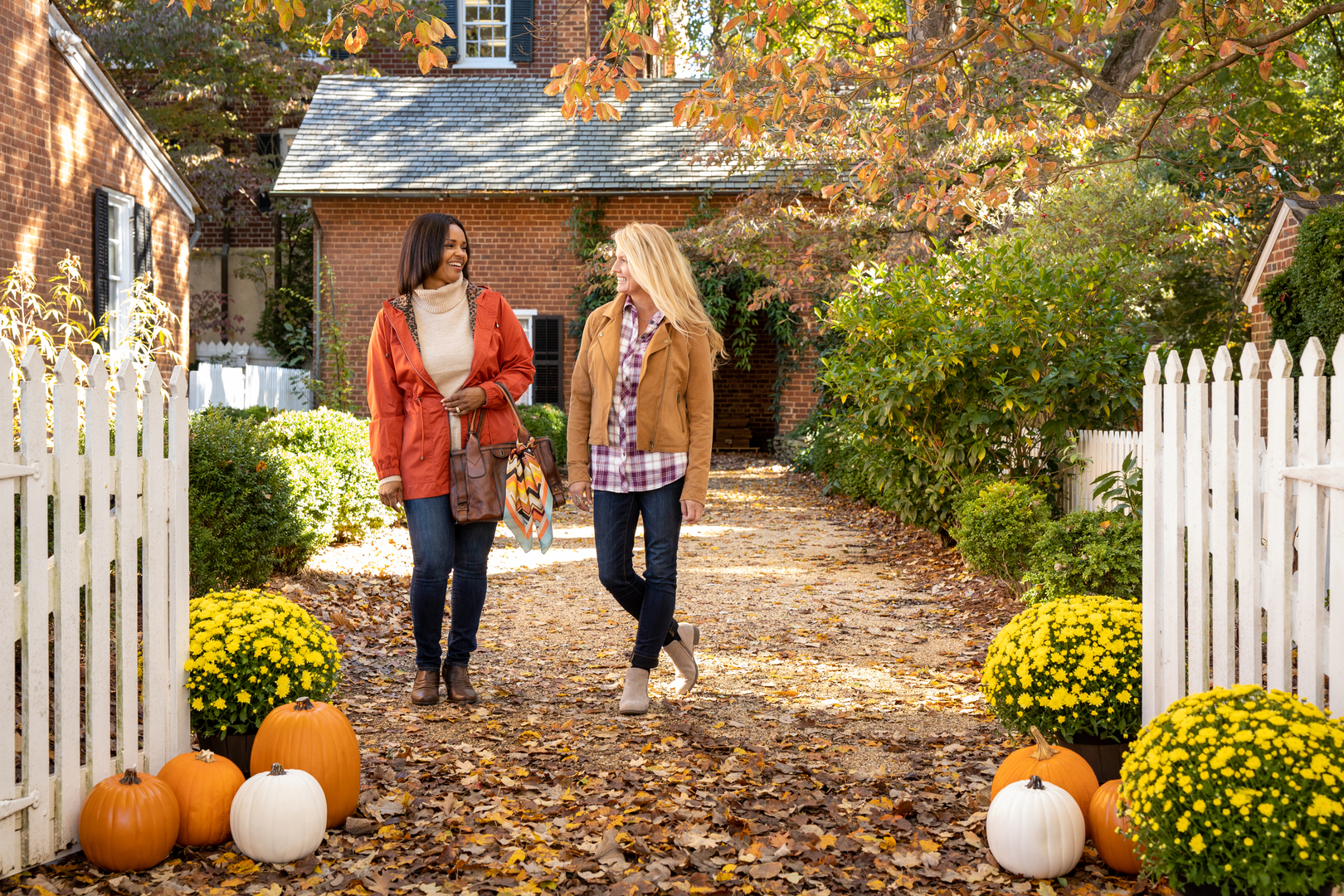 Old Salem Museums & Gardens (www.oldsalem.org)
Maybe it's the maples…or possibly the ginkgo (or both!)…the trees of historic Salem colorfully come to life every autumn. Settled in 1766, the 18th Century colonial village, today known as Old Salem Museums & Gardens, is lined with restored historic homes, shops, and heirloom gardens from more than 250 years ago. Although tours with costumed interpreters are postponed until Spring due to COVID-19, this living historic district is very much open to explore. Enjoy tranquil walks along the cobblestone sidewalks, pillowy piles of fallen leaves, and more room for nature to simply do its thing.
Check out their newest self-guided visitor experience, Salem Pathways, launching later this fall. Pick up a map from one of seven marked "headquarters" throughout the district and learn the stories of seven individuals who lived in Salem at different times over a span of 200 years. Scan the QR code provided on the map, journey through the historic district to places of historical significance, all the while listening, watching, and reading more on their experiences intersect through space and time. Learn more here.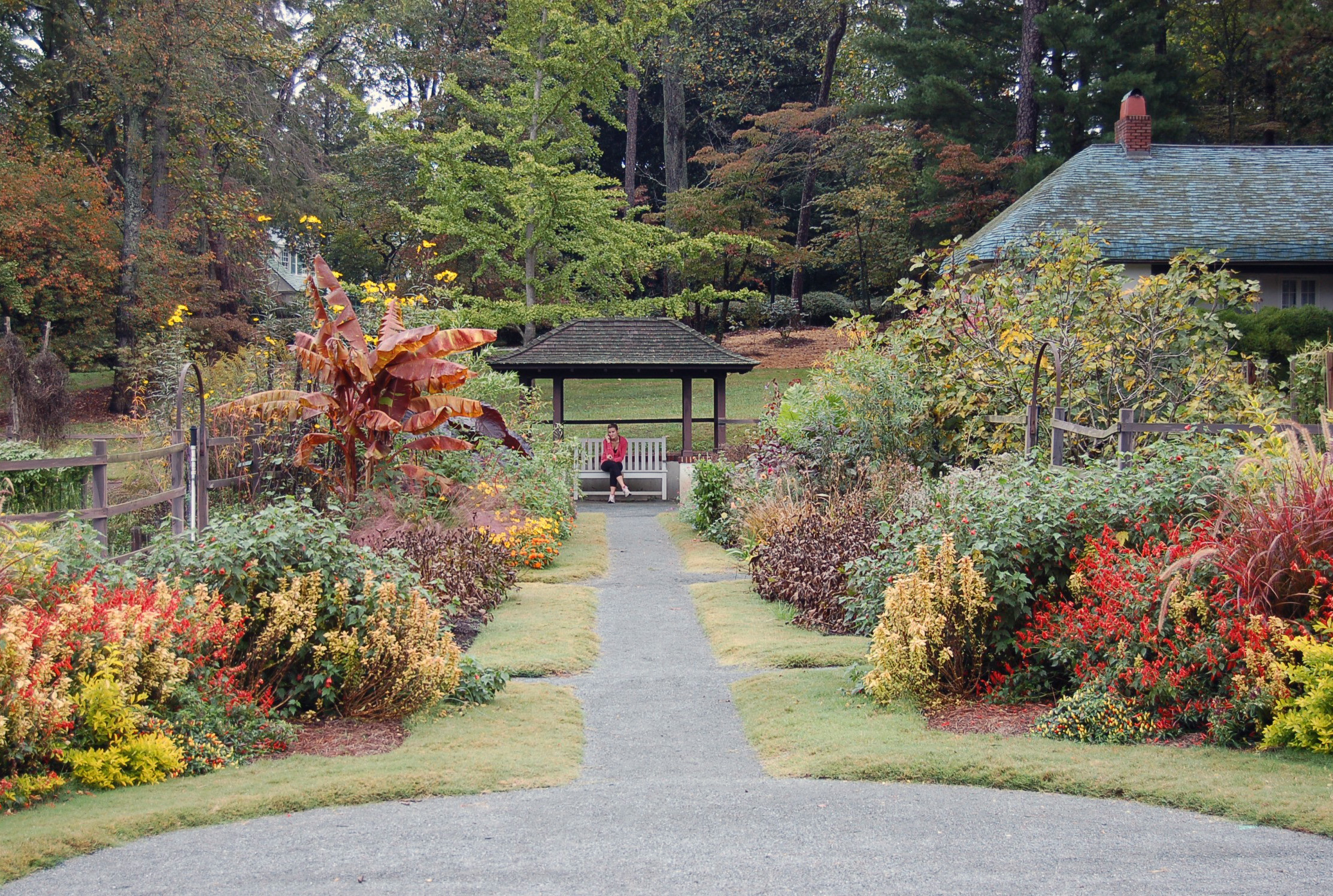 Reynolda Mile
Katharine Reynolds, wife of tobacco tycoon R.J. Reynolds, first moved to the countryside in 1917 to build what would become the thousand-acre Reynolda Estate. As was Katharine's vision, Reynolda Road, otherwise known as Reynolda Mile, is lined with brightly colored maples, providing a canopy a vibrant fall color. The area's surrounding trails are a popular hiking and biking destination, along with bird watching. Stroll the historic gardens where the original 1913 greenhouse still stands and along the trails to the scenic "waterfall."
Tip: Download the Reynolda Revealed app on your smartphone to help guide you along the grounds, including the exterior of Reynolda House Museum of American Art – the historic home of the Reynolds family that now houses one of the finest collections of American art.
Across Reynolda Road, explore the beautifully landscaped lawns of the Southeastern Center for Contemporary Art (SECCA) (secca.org). Originally the home of textile industrialist, James G. Hanes, this 1930's historic estate, turned modern-day art museum, sits on 33 acres and features an on-site lake and boxwood garden. Designed in 1929 by landscape architect, Ellen Shipman, the boxwood garden today represents the outline of what used to be a two-tiered garden of rose arbors, tree-form wisterias, and lilac standards.
Neighboring SECCA is the stunning Historic Graylyn Estate (graylyn.com/), once home to Bowman and Nathalie Gray (Bowman was former president of Reynolds Tobacco Company). Hotel of choice for dignitaries such as Oprah Winfrey and a host of former presidents, this hotel (and international conference center) sits on 55 sprawling acres. Wander the expansive lawns and stroll through the white garden. Visitors are treated to punch and Nathalie's recipe for her butterscotch cookies in honor of the Gray's family dogs, two Scottish Terriers, Butter and Scotch.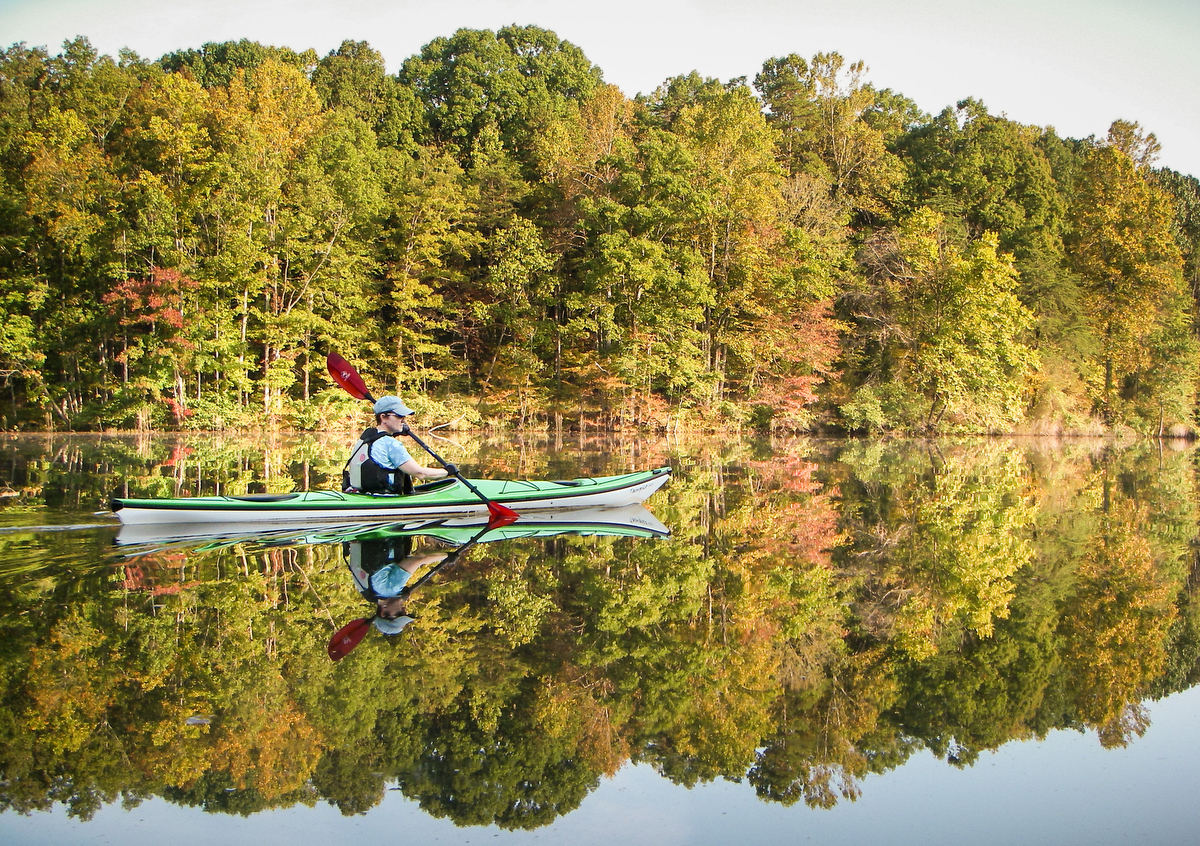 Salem Lake (http://www.cityofws.org/departments/recreation-parks/salem-lake)
Conveniently tucked away less than 10 minutes from downtown Winston-Salem, Salem Lake is surrounded by woods – making the shaded seven-mile trail ideal for a comfortable autumn hike, bike, or stroll during leaf peeping season. The views of Salem Lake shimmering under the sunlight certainly don't hurt either.  Whether you decide to travel the trails or go out on the lake for an afternoon of fishing, you'll find a sea of red, yellow and orange blanketing the woods surrounding the lake on all sides.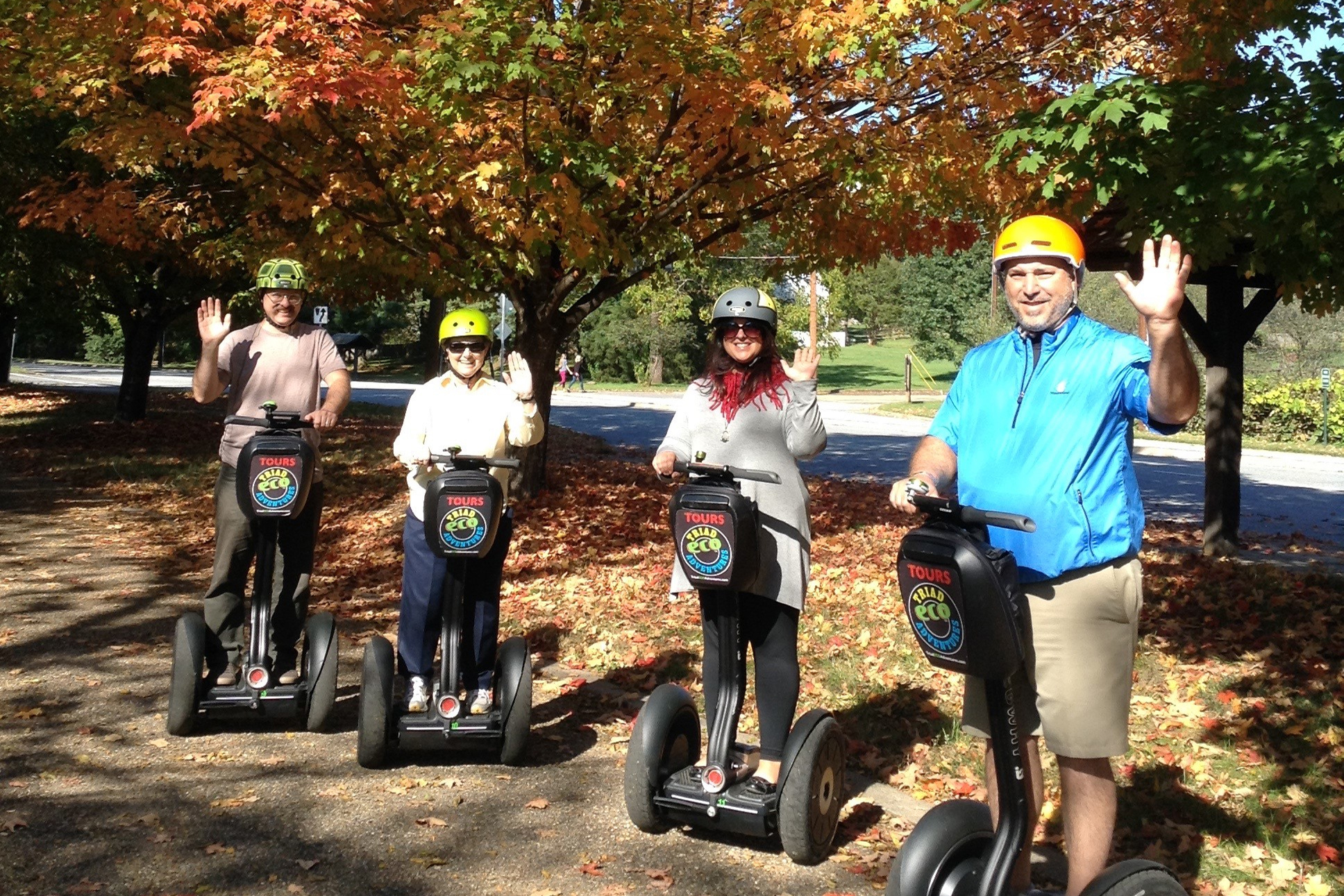 Glide with a Guide!
Explore autumn in all its glory with a narrated tour guide by booking a Segway or e-bike tour with Triad Eco Adventures. Explore the historic district of Old Salem, journey along scenic area greenways, or learn a piece of history while on a tour of Historic Washington Park. With numerous tour options, you're sure to find an outdoor experience that suits both your interests and comfort level.
Excursions range from 1.5 to 3 hours with options of Segway, E-bike, SUP (paddleboard), and trolley tours.
To book your next outing in Winston-Salem, visit their website here to purchase tickets.