Nibble & Nosh Your Way Through Winston-Salem's Moravian Culinary Trail
WINSTON-SALEM'S CULINARY HISTORY IS SO RICH, WE SERVE IT UP ONE TRAIL AT A TIME…
Winston-Salem's Moravian Culinary Trail is a trio of virtual trails (which means you can start, stay or stop wherever you please!) that celebrate our deep Moravian food roots. Each "leg" of the trail serves up a hearty portion of our history, delectable, tried-and-true recipes, and some of our favorite places to sample and savor these distinct (and delicious) Moravian dishes and delights.
The series kicks off with the whisper-thin Moravian cookies, continuing with a savory stroll about all-things Moravian Chicken Pie (no, not "pot pie!") culminating with a salute to the yeasty, slightly sweet, and definitely buttery Moravian sugar cake. So whether you opt to travel the sweet or savory, or sample a bit from each of the three paths, we hope you find our culinary trail the perfect way to explore our rich history and pique your taste buds in Winston-Salem!
---
THE CULINARY TRAIL'S SWEET COOKIE KICK-OFF
With more than a million pounds baked here each year, Winston-Salem has been heralded as the epicenter of the Moravian Cookie production. This simple, but ever so sophisticated cookie, is a worldwide wonder for its incredibly rich (some may even say intense) flavors and incredibly thin form.  Some bakers have even called it the "world's thinnest cookie." In an honorary nod to the thousands of batches of cookies consumed each year...we are kicking-off Winston-Salem's Culinary trail on a sweet note of all-things Moravian Cookies.  Because the trail is an evolving path, we are constantly sprinkling it with new ideas, eateries, and updates that serve up these historic sweet crisps in unexpected and modern ways.
Where to find Moravian Cookies in Winston-Salem:
Winkler Bakery in Old Salem
521 S Main St, Winston-Salem, NC 27101
336.721.7302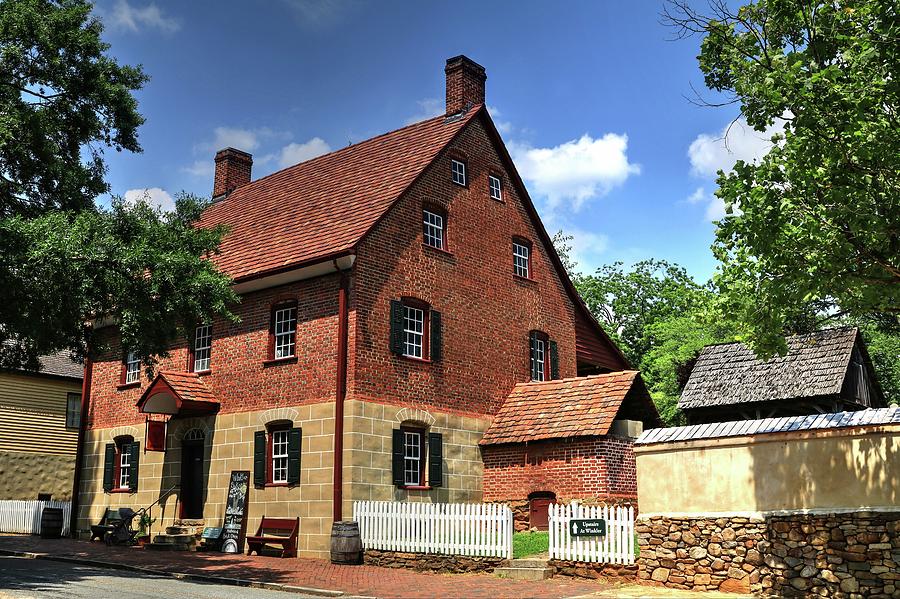 More than 200 years old, Winkler Bakery features the original wood-fired dome oven that has baked loaves of bread, cakes, and confections since it was built in 1800. Bakers in period costumes welcome visitors, offer samples, and make Moravian Sugar Cake and rosemary bread, too. (Because of the volume, today's cookies are made in a larger bakery, offsite, but all of their wares are for sale here.) The Winkler cookie recipe is adapted and updated from historic versions originally baked in the wood-fired oven. Visitors can talk to real bakers working in the space and firing up the ovens with the same passion and energy shared by bakers hundreds of years ago. They offer samples, too!
Just down and across the street from Winkler Bakery, take a shopping excursion at T. Bagge Merchant. Originally built in 1775, this quaint shop is your headquarters for authentic Moravian crafts and gifts. While you're there, imagine the scene when this historic location was the primary "grocery" and supplier of the ingredients and exotic spices this community used to bake their Moravian cookies. You can spend an entire day (and more) in Old Salem. The Winkler Bakery and T. Bagge Merchants are non-ticketed stops—so they are free and open to the public during regular operating hours.
---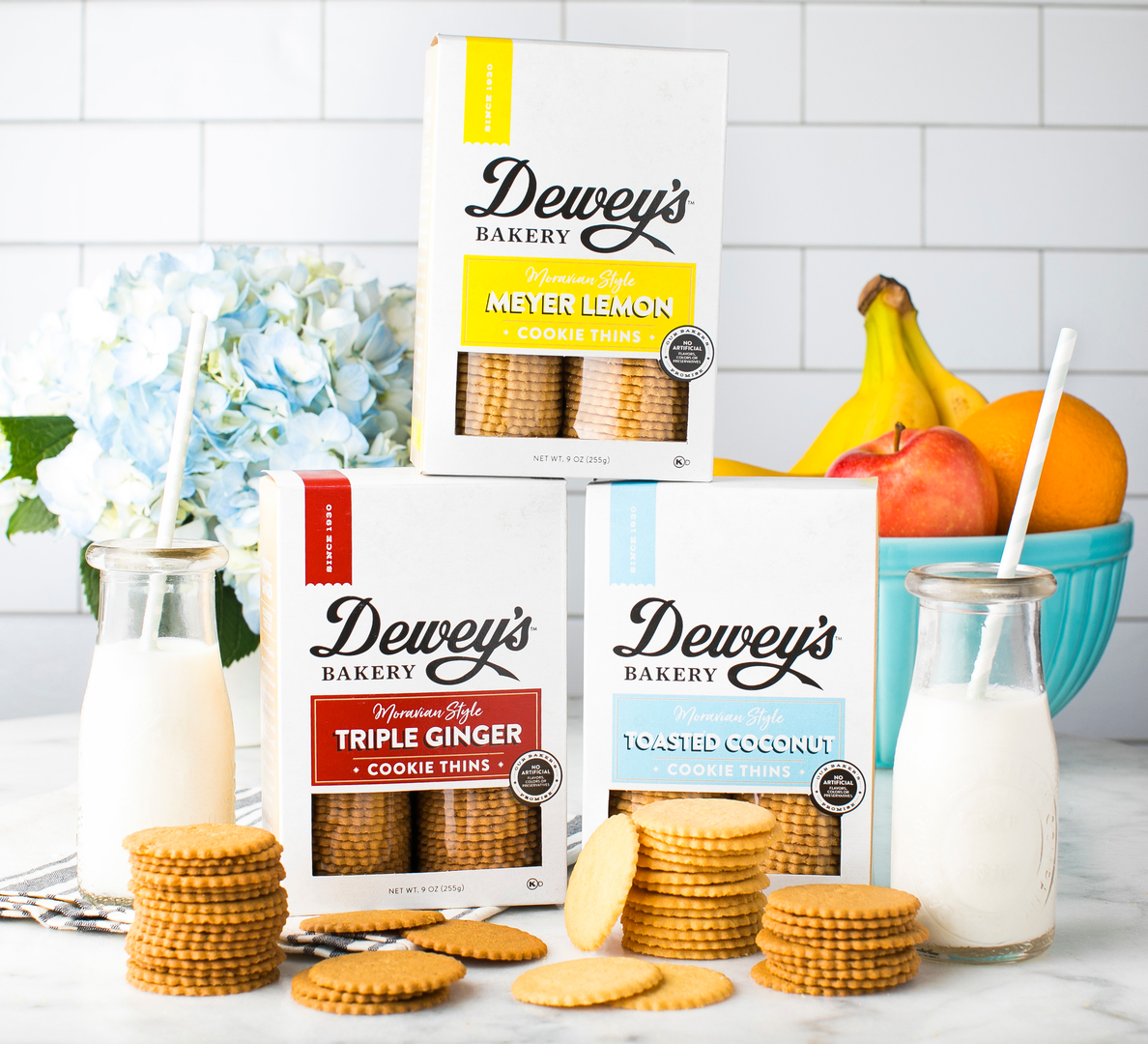 A Winston-Salem original since 1930, Dewey's Bakery is a household name, especially during the Easter, wedding, and holiday seasons. Visit their bakeries at Thruway Shopping Center at 262 S Stratford Rd and at Reynolda Manor at 2820 Reynolda Road. Throughout the year, Dewey's bakery locations in Winston-Salem are filled with a bevy of confections and cookies. Then in November and December, like elves, multiple additional Dewey's locations open across North Carolina, offering an array of Moravian cookies, sugar cakes, and oh yes, cheese straws.
---
Mrs. Hanes' Moravian Cookies (Tours available)
4643 Friedberg Church Rd, Clemmons, NC 27012
336.764.1402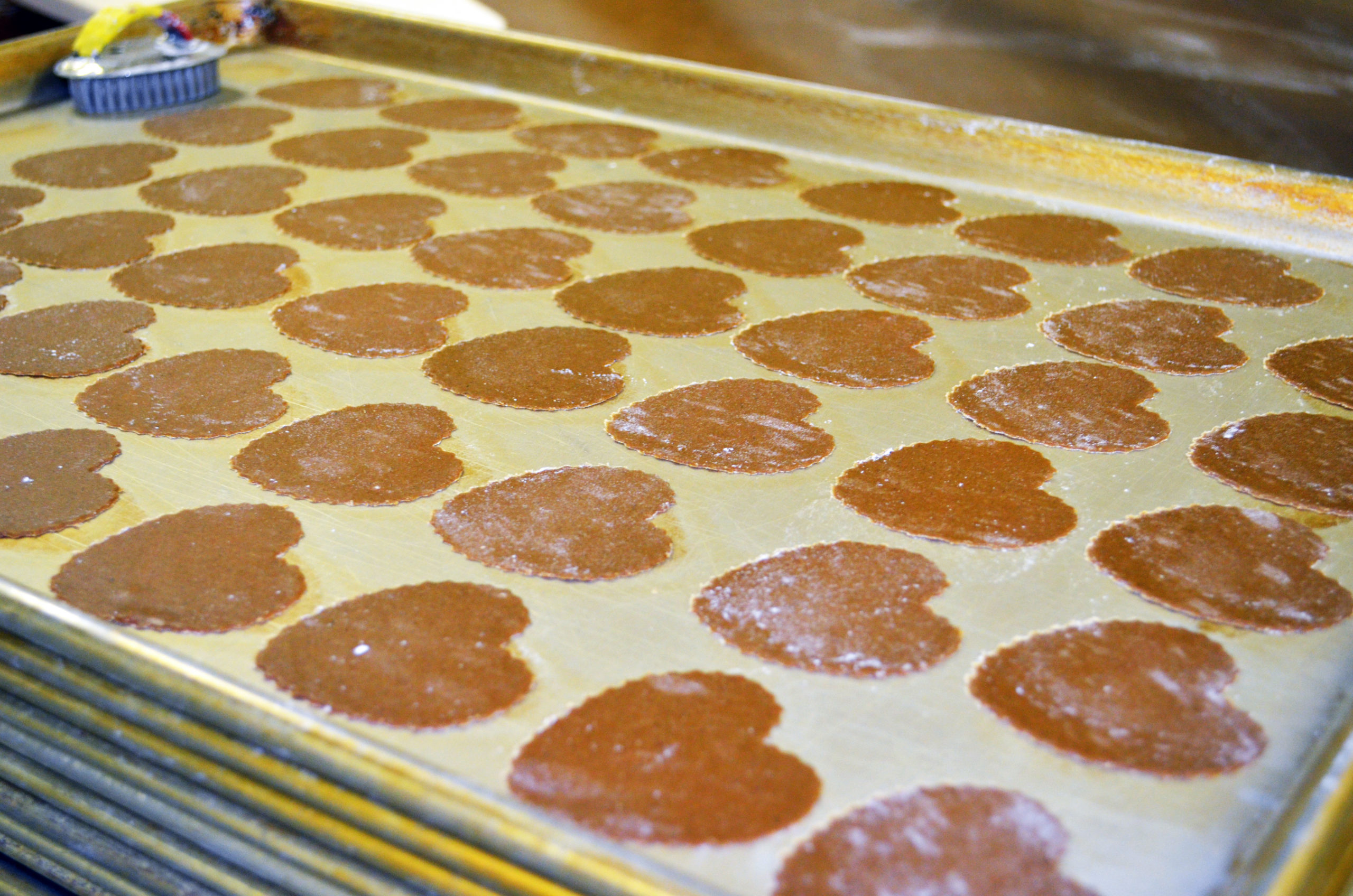 Mrs. Hanes' Moravian Cookies is nestled in the rolling hills of Clemmons, a suburb of our city. The public tours of this family-owned business provide visitors an inside peek of the cookie company in action. Here, "Artists in Aprons" hand roll, hand-cut, and hand package more than 110,000 pounds of dough each year. They bake six flavors: sugar, lemon (Mr. Hanes' favorite), black walnut, chocolate, butterscotch, and traditional Moravian ginger. Oprah Winfrey named this delicacy one of her "favorites" in 2010. On a tour, you're likely to meet the family behind the name: the late Mrs. Evva Hanes was a seventh-generation Moravian cookie maker, and founded the business with her husband, Travis Hanes- who still enjoys leading tours. Today, their daughter Mona and son Mike have become the next generation to run the family business.
Call the bakery to make a tour reservation. (Note: Tours are not available during the busy holiday season, but you can still buy cookies at the bakery during the holidays.)
---
Wilkerson Moravian Bakery
50 Miller Street Suite B
Winston-Salem, NC 27104
336.830.8102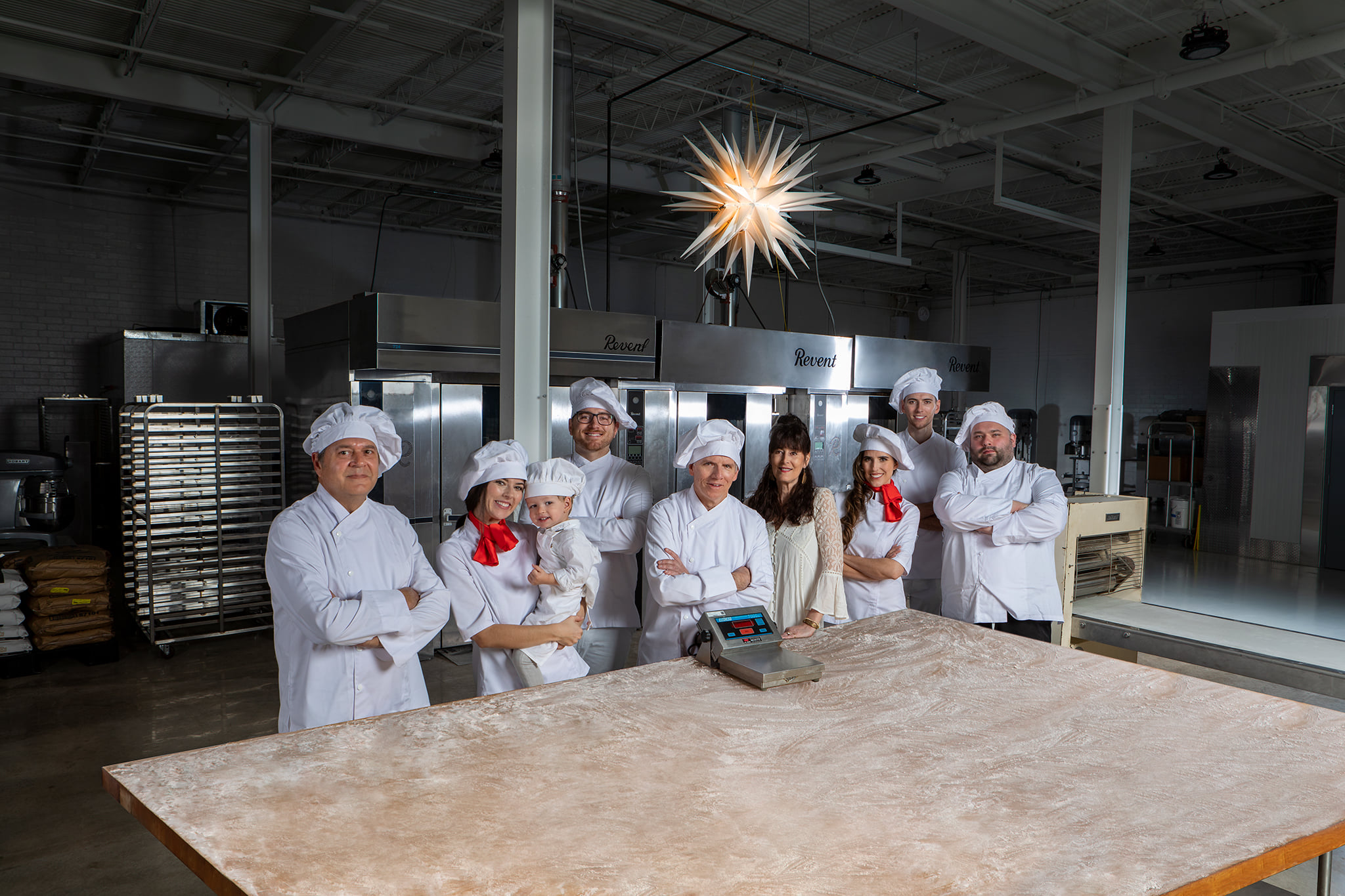 The Wilkerson family has been rolling out history one cookie at a time since 1925. After nearly a century in the making (ahem baking), Winston-Salem's newest brick-and-mortar Moravian bakery opened on March 3, 2021. The retail location is stocked with traditional Moravian Sugar Cake and cookies available in six inspired flavors, including orange brandy and butter rum. Devour one of these lovingly handcrafted (and legendary) goodies baked the Wilkerson Way in "pursuit of perfection."
---
Salem Kitchen
50 Miller Street, Winston-Salem, NC 27104
336.722.1155
A gourmet gift shop, Salem Kitchen proudly carries Mrs. Hanes' Moravian Cookies only. It's the perfect stop before packing a picnic and heading out to visit a winery or one of our parks.
---
Mast General Store
516 N. Trade Street, Winston-Salem, NC 27101
336.727.2015
You'll find tins of Classic Sugar Moravian Cookies from Salem Baking Company at the beloved Mast General Store in Winston-Salem's Downtown Arts District. Be sure to stock up on this delightfully sweet and tasty treat!
---
Restaurants with cookie creations are on the trail, too!
Milner's American Southern 
630 South Stratford Road, Winston-Salem, NC 27103
336.768.2221
Milner's American Southern is a family-owned and operated full-service restaurant with menus boasting a delicious variety of Southern American classics re-imagined using contemporary culinary techniques. Brother Chefs John and Buddy Milner work tirelessly to source the freshest local and regional ingredients to create inspiring dishes. Order their signature Moravian Cookie and Pecan-Crusted Salmon served with sweet potato flapjacks, sautéed spinach, fennel slaw, and vanilla bean beurre blanc. It's always on the menu.
---
The Historic First Batches Were Baked....
To better navigate the Moravian Cookie Trail, one must first talk about the historical migration of its first bakers…the Moravians. In 1753, the Moravians— a devout, religious group originally from Eastern Europe—were attracted to the central portion of North Carolina by its fertile soil, abundant water, and temperate climate. They settled on more than 100,000 pristine acres in the heart of our current city and called their new home the Wachovia Tract. Bethabara and Bethania are the earliest Moravian settlements along this expansive tract but it was in 1766 that the Moravians ultimately established the thriving community of Salem.
Soon, the Moravians' handiwork established what would become another hallmark of our city that survives to this day—a reputation for arts, culture, and innovation. Their pioneering work as fine craftsmen and artisans of pottery, tannery, ironworks, cloth, and furniture making established the city of Salem as a sought-after trade center. Some hardcore culinarians might say that making the Moravian cookie is one of Salem's greatest accomplishments, garnering worldwide fame and affection. In their earliest cooking chronicles and true to German heritage, the Moravians referred to the cookies as "cakes," traditionally baked as treats for family and friends during the Christmas holidays. Although there are slight variations of the historic recipes or "receipts," each call for rich, dense, and dark molasses, ginger, and aromatic cloves—robust hallmarks of the crispy treats.
Why Were These Flavors Chosen?
This is a popular question culinary historians like to chew on as they look at the history of the Moravian Cookie. Practicality and pragmatism—also trademarks of the Moravian culture—point to the use of the then exotic spices and flavorings. Ginger, clove, and molasses were both hearty and available (through the trading partners that came into the area) These ingredients still tasted good after a long journey—or being stored a long time. Because most traditional recipes made such large batches of dough, not all the cookies were baked at once. Storing the dough for days or weeks during the winter months was commonplace. Bakers knew that as the dough rested, the flavors intensified.
Why Are These Cookies So Thin?
The cookies distinctively thin texture evolved over years of baking for several practical reasons. Certainly the thinner the cookie, the more dough there was to produce more cookies. The thinner cookies would also bake quickly so that the families could get on about their other baking and daily chores. Because of the generous amount of molasses called for in most recipes, a thicker cookie produced a harder cookie...think hard, tooth-jarring biscotti.
 
---
Want to try your hand at baking?
North Carolina and Old Salem Cookery recipe for Moravian Christmas Cake (Cookies) Original publishing, 1955
Ingredients:
3/4 cup butter and lard or shortening, mixed
3/4 cup brown sugar
1-pint black molasses
7.5 cups sifted flour
4 tablespoons ground cloves
4 tablespoons ground cinnamon
4 tablespoons ground ginger
1 teaspoon salt
1 tablespoon soda
1/4 cup boiling water
Directions:
Cream butter and lard with sugar.
Add molasses.
Sift flour with spices and salt.
Add soda to boiling water.
Add flour mixture and soda water to creamed mixture.
Work well with your hands.
Cover and store in a cold place overnight, preferably longer.
Roll to infinite thinness on board.
Bake on greased cookie sheets in a moderate oven, 375˚, for a very few minutes or just until they begin to brown.
*These recipes call for a hefty quantity of ingredients and produce batches and batches of cookies. If you're considering whipping up a batch yourself, we recommend that you consider reducing the recipes by half.
---
A City of Arts & Innovation, Winston-Salem Reinvents the Moravian Cookie in a Modern Way...
Now that you've learned the technique at Mrs. Hanes' Moravian Cookies and have the recipe to make your own at home, here's just one more tip for making this 18th-century tradition all your own. Thanks to Dewey's Bakery, the beloved Moravian cookie found new life in the world of hors d'oeuvres -- the sweetness of the cookie combined with its crisp texture provides the perfect base for hors d'oeurvres -- a position once designated for crackers. Combinations such as ginger and bleu cheese, and lemon and mascarpone present a delightful sweet and savory taste to any dinner party or gathering. Create your own delightful takes on the sweet and savory bites, or for more inspiration, check out this how-to video here for ideas on how to make your own creations at home. Find Dewey's Bakery Moravian Cookies in fine supermarkets and specialty stores across the United States. But you'll ultimately find the largest collection of cookies and trendy flavors online at DeweysBakery.com.
Today, Dewey's bakes and distributes more than a million pounds of Moravian cookies nationwide annually. You'll find a diverse, luscious flavor profile with this label—everything from chocolate-dipped and chocolate-enrobed Moravian Cookies to the traditional Ginger Spice selections to Meyer Lemon, Key Lime, and more.
---
Moravian Cookies in the Media 
WRAL - Local Gifts We Love: Moravian Cookies
CountryLiving.com, the online website of Country Living Magazine – 4 Easy Ways to Serve North Carolina-Made Moravian Cookies
Forbes.com - Holiday Gift Guide 2020: Travel Products Made By Women
Parade Magazine - Made in America: Food Gifts From Each of the 50 States 
DeepSouth Magazine - Nibble Your Way Through Winston-Salem
Epicure & Culture - Sip & Snack: Exploring Moravian Cookie Culture & Local Wine Pairing In North Carolina 
Food Republic - Don't Tell Me Moravian Cookies are Only for the Holiday Season  
Skimbaco Lifestyle -  Taste the Goodness of the Moravian Cookie Trail in Winston-Salem, N.C.
Skimbaco Lifestyle - North Carolina: Your Holiday Cookie Headquarters
Cooking with Paula Deen Magazine - On the Moravian Culinary Trail
---
Efficient and economical are hallmarks of the Moravian lifestyle even right down to their cooking methods and recipes or "receipts." And no better example of both being served up today is in the form of the Moravian Pie. For more than 260 years here in Winston-Salem – home to the second-largest community of Moravians – many accomplished cooks have perfected this savory dish transforming leftover meats by filling flaky pie crusts and adding just the perfect amount of velvety, rich broth gravy.
The pie was basically the Moravian culinary equivalent to today's casserole.
Like the Moravians that first baked them, the pies themselves reflect the practical roots of the devout Christians who settled in this area of North Carolina in 1753. And the hallmark that sets the Moravian pie apart from today's "pot pies" is the noticeable absence of vegetables -- served on the side, but not in the filling. But we bet that even the most skeptical of pot pie enthusiasts will quickly forget this omission as soon as they devour their first delicious slice.
Wondering where to try authentic (and even some not-so-traditional) chicken pie while in Winston-Salem? It's as easy as…well, (Moravian) pie.
Spring House Restaurant, Kitchen & Bar – Winston-Salem is filled with a wonderful array of unexpected adventures, so it's only fitting that we include the Spring House Restaurant riff on the Moravian Chicken pie. Served as a special (so call ahead to request) Chef Tim Grandinetti has created the deconstructed chicken pie – a rich, savory sauce full of chicken ladled into a cradle of delicate puff pastry. But true to tradition, look for your veggies served on the side. Spring House is housed in the last remaining grand home on what was Winston-Salem's Millionaire's Row, the historic neighborhood of R. J. and Katharine Reynolds and various members of the Hanes (hosiery/textile) family.
---
Shops and Eateries Where You Can Purchase Take & Bake Chicken Pies:
Buie's Market 749 N. Avalon Road, Winston-Salem, NC 27104 336.602.2504
Fresh Market 3285 Robinhood Road, Winston-Salem, NC 27106 336.760.2519
Mawmaw's Chicken Pies 652 Gralin Street, Kernersville, NC, 27284 336.416.2334
Mrs. Pumpkin's Bakery 3645 - B Reynolda Road, Winston-Salem, NC 27106 336.924.9797
Olde World Meat Market 166 Millers Creek Drive, Suite B, Winston-Salem, NC 27127 336.602.2021
Salem Kitchen 50 Miller Street, Winston-Salem, NC 27104 336.722.1155
---
Another unexpected chicken pie expert is Mrs. Hanes…known for her world-famous (and Oprah's favorite) Moravian Cookies, Evva Hanes is a veteran Moravian Moravian Pie producer. She doesn't sell them at the cookie factory, but does give several recipes in her cookbooks.
Mrs. Hanes' Moravian Chicken Pie Recipe: 
Moravian Chicken Pie Recipe makes four to five pies
*Crust – use your favorite two-crust recipe*
Cook stewing hen in salted water with pepper and bay leaves until well done. (Reserve the broth)
Remove hen from broth, debone, and skin.
Cut into small chunks mixing white and dark meat; and divide in bowls for each pie. (VWS note: approximately two cups of meat needed per pie).
Line pie plate with bottom crust.
Add two cups meat; add 1-1/2 cups broth, one tablespoon flour, and a pinch of pepper
(Lightly) moisten (with broth) edge of bottom crust then top with another crust, pressing edges together. 
Cut slits in top crust; then sprinkle generously with butter and flour that has been worked together into rivels.*
*To make rivels, mix with fingers, two tablespoons flour, and one tablespoon butter. If you are freezing the pies, you can wait to put the rivels on until just before baking. 
Can be frozen at this point. For frozen pies, bake for 1 to 1-1/2 hours.  Bake at 400˚ F until brown, reduce heat to 350˚ and continue until bubbly.
Enjoy!
Source: Supper's at Six…and We're Not Waiting by Evva Foltz Hanes (page 190)
---
Chef Tim Grandinetti's (Spring House Restaurant, Kitchen & Bar) De-Constructed Moravian-inspired Chicken Pot Pie
1 whole Chicken, cut into pieces  |  2 cups Flour, seasoned with salt & pepper  | ¼ cup Vegetable Oil  |  3 Tbsp. Butter  |  2 each Onion, coarsely chopped  |  5 cloves Garlic. Minced  |  4 ribs Celery, coarsely chopped  |  4 each Carrots, coarsely chopped  |  ½ cup Dry Vermouth  |  3 cups Chicken Stock  |  1 piece Laurel Leaf
Heat a brazier pan; add vegetable oil & butter. 
Coat chicken with flour – add to brazier pan & brown nicely! 
Remove chicken from brazier pan – reserve. 
Add onion, garlic, celery, & carrot to brazier pan – sweat/cook gently for 6-8 minutes. 
Add dry vermouth and release fond from bottom of brazier. 
Add chicken stock, thyme, & laurel leaf – bring to a simmer. 
Allow to simmer for 45-50 minutes. 
Remove chicken – reserve. 
Strain braising liquid/ – adjust seasonings & reserve.
3 each Carrots  |  2 Tbsp. Butter  |  3 tsp, Dill  |  Salt & Pepper
Cook carrots until tender – season with dill, salt & pepper. 
Puree. 
Reserve.
1 cup Peas  |  2 Tbsp. Butter  |  2 tsp. Mint  |  Salt & Pepper
Cook peas until tender – season with mint, salt & pepper. 
Puree. 
Reserve.
1 cup Baby Red Potatoes  |  2 cups Chicken Stock  |  ¼ cup Scallions, finely chopped
Poach baby red potatoes in reserved braising liquid until tender – season salt & pepper. 
Scatter finely chopped scallions over potatoes. 
Reserve.
2/3 cup Cornmeal  |  2/3 cup Flour  |  2 tsp. Paprika  |  1 tsp. Baking Powder  |  2/3 cup Buttermilk  |  3 each Eggs  |  4 each Shallots, minced  |  ¼ cup Scallions, finely minced  |  3 cups Corn  |  4 Tbsp. Tarragon, minced  |  ¼ cup Vegetable Oil  |  3 Tbsp. Butter
Combine cornmeal, flour, paprika & baking powder – reserve.
Combine buttermilk & eggs – reserve. 
Add butter to saute pan; gently cook shallots, scallions, corn, & tarragon – 8-10 minutes.
Remove from heat & allow to cool 15-20 minutes.
Combine dry ingredients & wet ingredients to create a batter; fold in corn ragout.
Shallow fry with vegetable oil & butter.
Puff Pastry  |  Salt & Pepper
Bake puff pastry & season. 
Assemble the dish. 
ENJOY!
---
Wrapping up the Moravian Culinary Trail is the beloved Moravian Sugar Cake. Whether enjoyed with breakfast during the Easter holiday or as a dessert in the Christmas holidays, one thing remains true about every Moravian Sugar Cake -- they're each baked with twice as much love as they are brown sugar, butter, and cinnamon. The yeast cake, best served warm, is a favorite in most Winston-Salem households and a timeless classic amongst the Moravians who brought the recipe with them when they first arrived here in 1753. A distinct feature of the cake is its deeply pressed pockets to fit more of the butter and spices. It is said that Moravian men sought out their women partially based on the size of their thumbs. The bigger the thumb, the more gooey goodness to be crammed into every cranny of a freshly baked sugar cake.
Moravian Sugar Cake Recipe
From Dewey's Bakery in Winston-Salem, NC (Makes four small sugar cakes, each about 4.5" x 6")
Dough Ingredients:
1 medium potato
1 egg
¼ cup shortening
½ teaspoon salt
3 teaspoons powdered milk
2 teaspoons mashed potatoes
1/3 cup granulated sugar
1½ cups bread flour
½ cup cake flour
1 oz. yeast (4 ¼-oz packages active dry yeast)
¾ cup water
Topping Ingredients:
1 stick unsalted butter
1½ cups brown sugar
¼ teaspoon cinnamon
Directions
Peel potato, and boil until soft. Drain, mash, and reserve.
Combine egg, shortening, salt, milk, 2 tsp. mashed potato, and sugar in the bowl of a stand mixer outfitted with a paddle. (If working with a hand mixer, use the whisk attachment.) Mix for 4 minutes. If you are using a stand mixer, switch to the dough hook and add bread flour and cake flour. If not, continue with your hand mixer. Combine yeast and water and stir it into the other ingredients. With a dough hook, continue mixing on medium speed for 7 minutes, or until the dough is smooth and elastic. Otherwise, turn the dough out onto a lightly floured surface and knead for about 10 minutes, until it is smooth and elastic.
Cover and let dough rise about 1½ hours, or until it has doubled in size.
Using shortening, grease a 12 x 18 sheet cake pan with 2-inch sides. Punch the dough down and roll it into a rectangle on a flat surface. Poke holes in it with a fork, and then fit it into the pan. It should touch the sides.
Let the dough rest in the pan and combine the butter, brown sugar, and cinnamon in a pan on the stovetop. Bring it to a boil, then remove it from the heat. Use your fingers to poke small indentations into the dough, making sure not to poke all the way through to the pan. Pour the warm topping over the cake, spreading gently with a small spatula to ensure even distribution. Let the dough rise again until doubled in height, about half an hour.
Preheat the oven to 365 degrees, and bake the cake for 15-17 minutes, or until it is lightly browned. Check it for bubbles after about 10 minutes in the oven. If you see a bubble forming, burst it and continue baking. To serve, warm the cake and cut it into squares.
See the full Garden & Gun feature and recipe here.